PLAYBILL ON OPENING NIGHT: Buyer & Cellar — Hire Down Below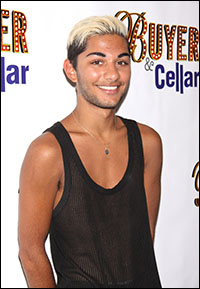 Photo by Joseph Marzullo/WENN

The glamorous actress skipped the Saturday performances of The Trip to Bountiful: "My son was graduating from college so I flew to L.A. for a day." Williams? Mother of a college graduate? Could this be true? "Sure," she nodded," and that's my third!" Judith Light, a third "Ugly Betty" co-star, was otherwise engaged, giving her Tony-winning performance in The Assembled Parties, but she caught Urie in previews.

Vanya and Sonia and Masha and Spike was also well-represented by two Tony nominees (Shalita Grant and Kristine Nielsen), a Tony winner who will take over Sigourney Weaver's Masha on July 31 (Julie White) and producer Pat Flicher Addiss, who also produced Buyer & Cellar with Darren Bagert, Dan Shaheen, Ted Snowden, Daryl Roth, et al. She got in a little plug for it June 26 when she and Margo Lion spoke to foreign correspondents at the UN about Broadway theatre. No doubt she let slip that her other Broadway show, A Christmas Story, will be coming to Madison Square Garden this Christmas. Will that be too much tinsel?

Brent Barrett, back from his Peter Pan tour, said he's hitting the road again — to the Sacramento Music Circus where he'll do Sugar with Jason Graae, Alix Korey and Lenny Wolpe. And Kate Baldwin is back from Chicago where she won raves for Big Fish, which starts rehearsing Aug. 12 for an Oct. 6 opening at the Neil Simon. "I play the wife of Norbert Leo Butz and the mother of Bobby Steggert — for the second time this year. He was my son last fall in Giant at The Public. I'm about three or four years older than he is." Her own offspring is two — "the wonderful twos," she said.

Jane Lynch spent her night off from her Broadway debut in Annie, supporting Urie. "I'm having the time of my life," she confessed, uncoached. "I'm enjoying myself every day. I look forward to going in there every day and getting out on stage. I will never let 20 years go by without being on stage ever again. Miss Hannigan is a great part for me. It's a great musical, and I have a terrific cast." Favorite moment? What else? "I love doing 'Easy Street.' When that song pops up, it's so exciting for me."

In contrast to the hard-hearted Miss Hannigan, the actress gives her full-hearted support to The Trevor Project, which prevents suicides among LGBTQ youth. She hosted its gala for six years in L.A. and recently did the same for the NYC branch.

What's next on the docket for Richard Kind, who was in Tony contention earlier this month for his against-type tour de force as a mobster-like movie mogul in The Big Knife? "I'm going to L.A. to look for a money job," he announced bluntly. "Y'know, my kids are eating mashed potatoes, saying, 'Isn't Daddy's prestige delicious?'"