PLAYBILL ON OPENING NIGHT: Dead Accounts; Fast Talk on a Slow Track
Holmes, who had a much smaller role in her previous Broadway outing (All My Sons), seemed to be warming to the territory — thanks to the company she has kept of late. "It's been so amazing to work with this group of people. We've really become a family. This has been a great learning experience for me because it's not an easy play to do. The pace has to be a certain way; otherwise it doesn't resonate as much. The whole experience has been very challenging, and I'm very grateful for it."

As the matriarch of the occasion, Houdyshell gives off the right, relatable vibes. "What appeals to me about this particular mother," she said, "is her moral center. She's a deeply religious person and has strong faith and conviction. That has always been her guiding force in raising her children. Things come up in this play that test her somewhat, and I think that she proves that she's a very strong person."

Plus, she gets big laughs. "Theresa Rebeck is a really gifted comedic writer, and the comedy in this thing is a pleasure to play. And Jack knows how to make it look easy. He is one of the most inspiring directors I've ever worked with. I don't think there's anything about the theatre that Jack doesn't know how to do. He's a great diagnostician. He can watch actors work on a scene and know exactly what to say to them that will pinpoint the most effective thing that will help them in that scene."

Hamilton, New York born and bred, is the only non-Midwesterner in the cast. "They all have this inherited niceness. It's true. They really do. I'm trying to soak it up."

At Gotham Hall, Nathan Lane planted himself at the table of the equally amusing Douglas Carter Beane, currently the Cinderella scripter, and was a pretty constant party-hub around which buzzed some of the bigger names of the night.

When she was asked "What's next?" by a reporter, Cherry Jones reached in her coat pocket and whipped out her Samuel French copy of The Glass Menagerie. "We're doing it at the A.R.T. in Cambridge, with Celia Keenan Bolger, Zachary Quinto and Brian J. Smith, with John Tiffany directing and Bob Crowley's doing the set. Isn't that incredible! We're going into previews in early February and open right after that." More immediately — like, in the next few days — she plans to check out her Tony-winning Catherine Sloper, The Heiress, now being reinterpreted by Jessica Chastain at the Walter Kerr. "I can't wait to see it and meet Jessica," she trilled.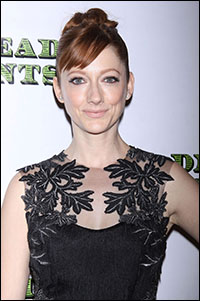 Photo by Joseph Marzullo/WENN
Dee Snider, who put in a few months of 2010 in Rock of Ages, said he hopes to be back on Broadway in one of his own creations: "I've written a musical called A Very Twisted Christmas, which I've optioned, and we're going to be workshopping in February. It's alternative holiday entertainment, based on the music I've written over the years. It's about a rock 'n' roll band, in a last-ditch effort to find fame and fortune, selling their souls to the devil but finding the magic of Christmas instead. It's wholesome! I've been writing for a number of years, but this is the first musical. I wrote the book, I wrote the music, I wrote the lyrics, and I'll probably be one of the characters if my producer has anything to say about it."
And what accounts for him being at Dead Accounts? "I'm here, cheering on Katie Holmes," he replied rather gallantly. "I don't know her, but I've watched her in recent months, the way she handled herself post-divorce — a very difficult situation — and I think she showed a lot of class and style. I think it's great she came to New York with her kid, got out in public, got into a show, just got back into living. You got to respect that. It's tough enough going through a divorce as a regular person, let alone with paparazzi following you around, so I'm rootin' for her."
First-nighters included Brooke Shields; the expectant Bill Heck and Maggie Lacey (Orphans' Home Cycle); TV's-"Lost"-and-Broadway's-found Maggie Grace (she's Madge, "the pretty one" — I'll say! — in the upcoming revival of William Inge's Picnic); John Barrett, hair stylist of the stars (Katie Holmes in particular); cosmetics CEO Bobbi Brown, makeup artist of the stars (Holmes in particular); Christian Camargo, looking like Heathcliff in bluejeans; Jessica Walter, late of Anything Goes; Sherie Rene Scott and her Everyday Rapture director, Michael Mayer (TV's "Do No Harm" pilot is directed by him); actor-director (Checkers) Terry Kinney; TV news anchor Rosanna Scotto; soap star Louise Sorel; fashion designer Robert Verdi; character actress Patricia Conolly, busily playing a grandmother for real and turning down other roles accordingly; Hettienne Park and Lily Rabe, graduates of the Rebeck Seminar, the latter now literally knockin' 'em dead on TV's "American Horror Story" (the quality of mercy, apparently, is very strained these days); Hope Davis; playwright Marsha Norman, and a couple of New York actors from "Argo," Zeljko Ivanek and Victor Garber.
Richard Kind, who will make a sharp turn into drama this spring as the oppressive producer in Roundabout's revival of The Big Knife, is also in "Argo" and regaled his group with a line that was cut from that film because it was too funny — a snarky exchange between him, playing a hack screenwriter, and Alan Arkin, as a producer.
Kind: How's Sylvia?
Arkin: She's dead.
Kind: Oh, I'm sorry.
Arkin: Nine years ago.
Kind: I've been busy.