PLAYBILL ON OPENING NIGHT: Mothers and Sons — Time & Tyne & Terrence at 20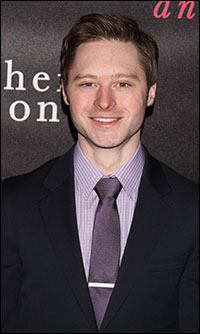 Photo by Joseph Marzullo/WENN

The mechanics of modern theatre drag the process out, said McNally. "The technical side is so involved building decks and turntables. Even our set is on a deck. It was built up because of wiring and cables, but nothing moves. No one uses a stage floor anymore. It used to be a stage. You stood on a stage. Now, you stand on a deck. That takes time to build. You only have a week of tech, or you get a lights on/lights off."

Fast-fowarding to Mothers and Sons, time has marched on and all over the surviving gay lover. He has taken a husband, now that that's an option, and they are raising a son created by artificial insemination. In contrast, Andre's mother is unchanged, and she is still holding on to the grief for her son, undistracted by recent widowhood.

It's clear that Daly, who can humanize the phonebook, has her work cut out for her. When the lights go up on her at the beginning of the play, she is fixed and inflexible, much the way Sada Thompson left her. In fact, she is almost the spitting image of Thompson.

"Maybe Sada was along with me tonight," she suggested. "I worked with her once — 'The Entertainer' — with Jack Lemmon and Ray Bolger and Michael Cristofer. We did it for television. I'll tell you what, when I go on stage, I like to ask another actress to help me. Some nights, it's Maureen Stapleton. Sometimes, it's Pat Neal. Some nights, it's Carol Burnett. Tonight it was my mother, Hope Daly. She was a wonderful actress but never made a career. I like other energies, the talents and sensibilities of other actresses. I invite them to come with me every night. Sometimes, it's Duse."

The hardest thing for her tonight was waiting for the audience to settle down. "When they call half-hour, I start to do my thing, and then it's five minutes, and you're up. Tonight, we had to wait because tonight is opening night and they're all out there admiring each other." Slow starts can make a person nervous, evidently.

Holding his own in conversation combat with what could have been his mother-in-law (God forbid!), Weller advanced a decent person who's vulnerable to her invisible punches and learns to fight back. "This is one of the best-written characters I've ever encountered," insisted the actor. "He's a good person who's not comfortable with being confrontational, but she provokes it, and it eventually comes out. He's got a great character arc."

Steggert admitted she is a tough character to take on. "My performance has changed in the past few weeks in the sense that I had to find a way to evolve compassion for her," he admitted. "In the first drafts, my character resisted her, but Terrence and I and the director worked together to find the compassion for this woman who clearly needs help."

The character is a good contemporary fit for him. "I love that he is of the generation where family and marriage and health are something he considers to be his birth right. He takes opportunity, he doesn't have doubt, he doesn't have shame, and he lives life to the fullest. He's an example of what the modern gay man can be."

An even farther peek into the future came from Master Taylor, making his Broadway debut at age 8. "I would like to do this again," he said. "Any character."