PLAYBILL ON OPENING NIGHT: One Man, Two Guvnors, a Brighton Beach Romp



Photo by Joseph Marzullo/WENN
*

He's only one man, holding down two jobs at the same time while helping himself to any edible particles that cross his path, a whirling dervish on a food-finding mission.

It has to be said that James Corden, XL in the girth and mirth departments but agile as all get-out, sometimes seems a visible blur bounding about the stage of the Music Box, which he took over April 18 in One Man, Two Guvnors.
br> His character, Francis Henshall, comes from good commedia dell'arte stock. He was known as Truffaldino in his initial incarnation, Carlo Goldoni's The Servant of Two Masters. That was 1743, in Venice; this is 1963, in Brighton.

Nicholas Hytner, artistic director of the National Theatre in London in general and helmsman of the enterprise in particular, more or less "ordered" an update of a farce he had played at age 17 in Manchester Grammar School, and adaptor Richard Bean delivered the goods with a giddy vengeance.

The "two guvnors" employing Francis — his literal meal-tickets whom he labors elaborately to keep apart, lest their funding abruptly stop or merge — are actually lovers-on-the-lamb trying to reunite. Rachel Crabbe (Jemima Rooper) has disguised herself as her evil-twin gangster brother who has been unceremoniously bumped off by her boyfriend, Stanley Stubbers (Oliver Chris).

Things pretty much come to a head when Rachel and Stanley settle into adjacent hotel suites, and Francis prepares dinner for them in the foyer, acting as a highly unofficial meal-taster, too. It's a feast for sore eyes, intensified by the determined shuffle-ons of an 87-year-old waiter, the ancient Alfie ( Tom Edden), who is subjected to all sorts of indignities — from pratfalls to a pumped-up pacemaker.

Off stage and out of his decrepit disguise, at the after-party held at the Liberty Theatre on West 42nd, Edden turned out to be 33. "I really didn't want to poke fun at old men because, if I'm lucky, I'll live to be an old, old man myself," he said.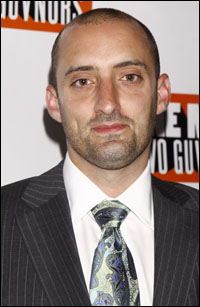 photo by Joseph Marzullo/WENN
"What I did was, I looked at a lot of very old men — and just listened to my own body and thought, 'Okay, what is probably going to happen to my body? This bit will collapse. This bit'll sag to the side.' The only thing I'm quite jealous of is his hair. I've lost most of mine, and he has a beautiful head of hair. He's doing better than I'll do."
He's having a great time. "It is a real joy. I've always wanted to work at the National Theatre. That was a great ambition I fulfilled. I never dreamed this would take us to the West End, let alone Broadway. Broadway is just something you hear about — like Oz — so I'm grateful to all the people who made it happen."
Of course, he's the first to admit: no pain, no gain. "We finished in the West End at the end of February and had March off, so the bruises I acquired over the year faded and went away. Now, I notice they're back on the same parts of the body because I'm back in the show. If they were an inch in another direction, I wouldn't have noticed."
Director Hytner covered his back by hiring a "Physical Comedy Director" — Cal McCrystal. "Cal is a genius because he really knows what will get a big laugh," Edden trumpeted. "He'll say, 'If you do that, you'll get a big laugh.' It's a small alteration, and you think, 'Really?' because it doesn't sound like something that would contribute that much — but, sure enough, you do it, and it gets a big laugh.
"That's why I think that Nick is so brilliant — because he was able to see that the style of the piece needed someone who's a real specialist. He said, 'I need the best guy for physical comedy,' so those parts of the show Cal very much focused on, and Nick has an eye on everything. He's so meticulous so it's a good combination."
Corden is 70 pounds lighter than he was during his 2006 Broadway semester as one of The History Boys. What's his secret exercise? "This play," he replied.
He's not kidding. The McCrystal aerobics on stage keep him in perpetual, body-draining motion — and, like another British transplant in the same fix (End of the Rainbow's Tracie Bennett), he's determined to do it eight times a week.
"I think you have to. I don't think it's particularly right not to — if you're going to put your name out front and then say, 'I won't be in it every day.' I think it's something you should do. Who's to turn up and do your job? It's only three hours every day."
Besides, Corden is confident that he won't be needing a fat suit to finish the run. "Not with a Shake Shack over the road," he noted. "No, I'm in trouble."
Right now, he has lost enough to suggest a young Sonny Tufts, but he has good reason for not wanting to slim to matinee-idol size: "Those are the boring parts."
The ingratiating personality he exhibits on stage is as audience-winning as it is exhausting. "Watching the audience is about the nicest thing in the world to do. Tonight was not the loudest audience we've had. They were louder last night, in fact. This whole thing — every night, from start to finish — is a joy for me."
The feeling is so mutual he effortlessly plucks participants from the audience. One of the ones he picked on opening night was an actor: Maxwell Zagorski, of the recently cancelled "One Life To Live." "I've never done any theatre," he admitted later — but he equipped himself quite well for a sudden Broadway debut.
According to Corden, the game plan for One Man, Two Guvnors is, "if the reviews are okay, we'll be here for five months. Then we'll go home, and I'll get married ten days after that." His fiancée and their year-old son are with him in New York.
Read more about One Man, Two Guvnors in the Playbill Vault.