PLAYBILL ON OPENING NIGHT: Picnic; Inge Benefits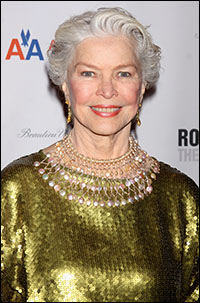 Photo by Joseph Marzullo/WENN

The opening-night party was held across the street from the theatre at the Liberty Theatre at Famous Dave's. The most glamorous presence there, bar none, was Burstyn, a recent octogenarian who found a truly fresh way into Mrs. Potts.

"Well, she just spoke to me that way," the Tony winner confessed. "At one point, one of the characters says when she gets to heaven she wants everybody to be like Mrs. Potts, so I felt sort of an angelic nature about her. And, also, of course, she was a virgin. She was repressed. She wasn't after Hal, but she sure liked to look at him."

Winningham, one of the more grounded of The Brat Pack introduced in 1985's "St. Elmo's Fire," has turned into wonderful mother material, trying to steer her daughter away from her own mistakes. "You don't really find out until the last minute and a half about her pain," she said, "and it comes in one line of dialogue."

Hers is a notable Broadway bow. "God bless Sam Gold for getting me here."

A similar sentiment was expressed by Maddie Corman, who plays one of Rosemary's school-teaching cohorts, Irma Kronkite. "Rehearsal was like a master class with Sam Gold. I felt like I was back in school in the best possible way. He's brilliant, and all his notes made me want to read more and learn more."

The original Irma was played by the plus-sized Reta Shaw, but Gold didn't see her that way. "I love that he wanted me to do it and didn't worry about it. Irma is Irma, and he saw some sadness in me that was not about being a certain age or a certain size."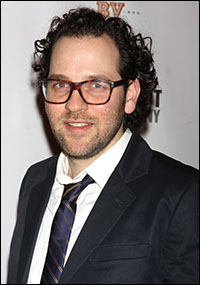 photo by Joseph Marzullo/WENN
Giving glitter to the opening: Tovah Feldshuh with Red Bull's Jesse Berger, who just directed her in Volpone; Josh Hamilton, late of the late Dead Accounts; directors Michael Mayer, Alex Timbers and Walter Bobbie; British Simon Jones, who's expending his proper, pearl-shaped tones on huckstering the extension (till March 20) of Roundabout's The Mystery of Edwin Drood; Lily Rabe; designer Tony Walton with cane and wife Gen LeRoy (he's just finished doing "a kind of fully staged workshop "of The Great American Mousical up at Goodspeed, written by ex-wife Julie Andrews and their daughter, Emma, and directed by La Andrews); Blythe Danner, who just landed Nice Work If You Can Get It; Katherine Waterston, who's doing independent films these days waiting for her next stage shot; Mario Cantone and Jerry Dixon; actor-turning-playwright Hamish Linklater, about to set The Fleas loose on his play, The Vandal; Adam Chanler-Berat and Stephen Karam, the Sons of the Prophet Pulitzer Prize contender; Master Class grad Alexandra Silber; The Lunts of late (from Ten Chimneys), Carolyn McCormick and Byron Jennings; music book writer Dick Scanlan; the cast of three from My Name Is Asher Lev (Jenny Bacon, Ari Brand and Mark Nelson); the constantly class Margaret Colin; Cinderella's now and future Prince, Santino Fontana; the venerable Dana Ivey; comedy king Neil Simon and his queen, Elaine Joyce; The Performers' prize act, Ari Graynor; A Behanding in Spokane's Sam Rockwell, one of the recent "Seven Psychopaths"; Bill Irwin; and a gaggle of the beautiful young (Gideon Glick, Callie Thorne, Chase Crawford, Jennifer Morrison, Andy Mientus and Mia Maestro).
"You'll know the answer to this," said Jane Alexander, swooping me into an intermission brain-stumper that was stalling her husband, director Ed Sherin, and producer Liz McCann. "Who played Madge in the original production?" I told her Janice Rule, and relief settled over the group. Alexander, there in support of daughter-in-law Corman, remembers that production. "I was a teenager, and all my focus was on Kim Stanley [playing Madge's smarter, more daring kid sister]."