PLAYBILL ON OPENING NIGHT: Picnic; Inge Benefits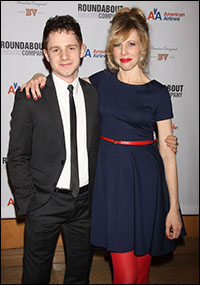 Photo by Joseph Marzullo/WENN

Director Gold hung out at the party with playwrights Annie Baker and Amy Herzog, one of whom was his wife (it was the latter, I was told by the former).

Another point of confusion: both have works ready to world-premiere. Herzog's Belleville goes into previews Feb. 12 at New York Theatre Workshop, helmed by a director almost as prolific as Gold, Anne Kauffman. Not that there's any grass growing on Gold. After a day off from Picnic, he commences Baker's The Flick, which will start its previews three days later at Playwrights Horizons. It's about the secret life of ushers at a rundown movie theatre — and, no, she hastened to add, "I've had a lot of lousy jobs in my life, but I was never an usher." Since he couldn't squeeze in Disney World, Gold decided to spend his day-between-plays with his young son.

One last kudo: In an evening filled with shading and nuance, it was nice to note this was followed through to the smallest role. It's an annoying gnat of a role and might be ignored by critics, but Chris Perfetti (in yet another Broadway debut) is a dead-on "Bomber" Gutzel, the oversexed paperboy with delusional dreams of Madge.

The first "Bomber," Morris Miller, is the only male member of the original cast still alive. So's the understudy who found a husband in the cast: Joanne Woodward.

The only original cast member attending the opening was 91-year-old Elizabeth Wilson, who played the new teacher in town, Christine Schoenwalder, the female hygiene instructor who pointedly looked the other way when Hal bared his chest.

She was mellow and nostalgic after the play. "It was a very happy experience for me, remembering a lot of the actors who became my friends like Eileen Heckart and Kim Stanley and Paul Newman and dear Joshua Logan, who directed it," she remarked.

"That was Josh's version of Picnic we saw tonight. What happened was he decided to change the ending of the play. Inge's original ending was Madge staying. She didn't run off with Hal, but Josh told him he was going to change it. I don't know legally how he got away with it, but, in those days — 1953 — Josh Logan could change the ending and did. I think Inge's ending was less sad. People call this the happy ending, her going off with Hal. God Almighty, what's going to happen? I'm sorry. I don't think that's a happy ending. When William Inge actually saw it on stage — I'll never forget it — he walked up the aisle, and we never saw him again. He was devastated."

But the devastation wasn't forever, evidently. There's nothing like the Pulitzer Prize and The New York Drama Critics' Circle Award to bring a playwright to his senses.

When the play was published to promote the film version, which won Oscar nominations for Best Director (Logan, in his film debut) and Best Picture, Inge's dedication was "To Joshua Logan, Who gave unsparingly of himself in helping me to realize the play. I shall be always grateful."