PLAYBILL ON OPENING NIGHT: Pippin—Make That 'Big-Top Pippin'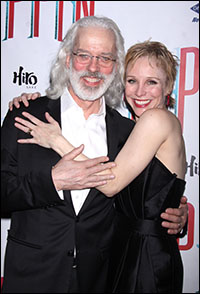 Photo by Joseph Marzullo/WENN

Terrence Mann, d'Amboise's husband in the play and in life, also pushes back the boundaries of a small, if kingly, part: Charlemagne. "The script is what it is, and he's on stage so little time. He's a crazy megalomaniac—a war person, but he loves his son, which gets the role a little more depth than-–I dunno, he's not Javert, is he?"

The character does give him a chance to play his infrequent funny card. "I don't ever get a chance to do that broad stuff—so thank God for Diane Paulus letting me do something that was sexy and dangerous and funny all at the same time."

Don't be a bit surprised if Andrea Martin doesn't strut off with this year's Tony for Featured Actress in a Musical. It's the kind of thing for which she can't be denied.

As Pippin's grandmother, this superb comedienne (66 playing 67) is allotted only one big scene, but it comes with a ready-made showstopper, "No Time at All," and director Paulus has thrown everything at it to make it soar—beach balls, follow-the-bouncing-ball singalong, even swimwear. Midway through, Martin stashes the granny garb, strips to a one-piece sequin-suit and levitates into some intricate trapeze tricks. It knocks the audience out. All rise in thunderous applause.

"I have a great partner for that, Yannick Thomas," Martin said. "He takes care of me beautifully. It gives me confidence to act like I'm doing the most natural thing ever."

First among the first-nighters was Ben Vereen, the original Tony-winning Leading Player, now flashily decked out in a black suit, white scarf, top hat and tennies. He sent his compliments backstage to Miller, but the two never connected physically.

The opening-night crowd ran a gamut from Chitty Chitty Bang Bang (Sally Ann Howes) to Chatty Chatty Bang Bang (Seth Rudetsky). In between: Tovah Feldshuh, top cop Ray Kelly (his second Broadway opening in a row), "Smash"ing couple Debra Messing and Will Chase, the Canadian-Godspell connection: Victor Garber and Martin Short (the latter, Martin's favorite in-law), Steve Kazee (returning to his Once block for the first time since he left his Tony-winning part: "It's very emotional being this close to that show"), Ricky Martin with sunglasses and gleaming teeth and needing nothing more, Jane Krakowski (whose aerial antics in Nine copped a Tony), Next to Normal's Jennifer Damiano, Doubt Tony winner Adriene Lenox, Spider-Man well-wisher Brett Thielle, Equus stud Lorenzo Pisoni (who hails from the acrobatic arts), Marco Zunino, tall Tommy Tune, songwriters Scott Wittman and Marc Shaiman (playing hooky from their London Chocolate Factory, which opens June 25, to catch the Broadway openings of a pair of primal pals), producer John Gore, director-choreographer Casey Nicholaw and Tarzan's Jenn Gambatese (bound next month for Venice—not Italy, just The Public).