PLAYBILL ON OPENING NIGHT: Scandalous; Saint Carolee
Gifford arrived early, gorgeously gowned like a goddess by Adrianne Papell. "Is this the look on Olympus this year?" I asked when she wafted up wearing a smile fixed at Radiant. Occasionally, that relaxed into Relief, which was shared by her entourage.

She admitted, after a decade of deep-dish McPherson research, she still had one nagging question: where the evangelist actually was when she dropped off the face of the earth at the height of her celebrity. She returned with the fantastical story she had been chloroformed and kidnapped, but most people suspected she was shacked up in a seedy Mexican village with her married radio engineer, Kenneth Ormiston.

"I still don't know where she was those five weeks, and I care less and less as the years go by," Gifford said. "Y'know, we've all been some place we weren't supposed to be, and that's really what our show's about. We're very, very condemning of one another, but God loves us. God loves what He creates. I love that about Aimee. She didn't judge people, but she was certainly judged herself. She was judged a lot."

The flickering of feminism to be found in McPherson's example was what ignited and fueled Gifford's driving passion for this project. "I think the fact that Aimee did what she did before women even had the vote is what set me off. The 1920s and '30s were such a male-dominated society, and her biggest enemies were the religious people of the day. She didn't care. She was fearless. Every time she fell down, she got back up — and I think that's a great message for today. That last song that she sings — 'What Does It Profit [a Man]?' — every week there's a new person in the newspaper. Now it's David Petraeus. Last week it was Lance Armstrong. The week before that, Arnold Schwarzenegger. You could rip this story from the newspapers today. What does it profit any of us to gain the whole world and lose our soul?"

The vibrant, vital George Hearn brought dignity and authority to the stage in two parts. Given the gray shank of hair and beard he wears as Aimee's sympathetic father, you may think he's Theodore Bikel. "That's right!" Hearn lit up. "I thought it was Hal Holbrook, but it's Theodore Bikel." He also plays, more recognizably, her evangelistic rival in L.A. "They're total opposites and, thus, a lot of fun to play."

He had special praise for his leading lady. "Carolee is just an astounding force. She was really hurting a couple of nights ago, and I felt so badly for her. It happens all the time. I'll tell my wife, 'Aw, I got a sore throat,' and she'll say, 'Well, of course, you do. You're in a Broadway musical, and you're about to open.' It was really a sad, dramatic event for Carolee, but she was determined to go on, and, when that girl's determined, there's no stopping her. I could weep for her. She's a wonderful woman.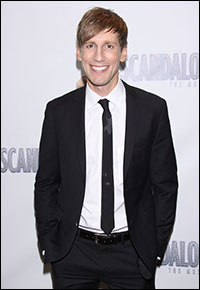 Photo by Joseph Marzullo/WENN
"As a consequence of having Carolee and Kathie Lee at the top of the company be so magnanimous, it's a trickle-down theory that actually works. We're all a family."
Candy Buckley, who plays his stiff-collared wife, and Roz Ryan, as the brothel madam recruited to be a girl-Friday, are the key figures shepherding McPherson through her flamboyant ministry. "Kathie has written me the most fabulous character I could ever dream of playing," Ryan gushed. "It's based on a real person, but Kathie didn't want me to research her any. She wanted me to become her as opposed to be her. The person wasn't what you see. She was a little Jewish woman."
Most of Andrew Samonsky's stage time is spent playing what could relatively be called Aimee's truest love, Ormiston. He also does — literally — a wordless walk-on as her second husband, Harold McPherson. "He was a much larger character for the Seattle run, but you gotta decide how much story you can tell so he got the boot and was already cut by the time I got ahold of him," Samonsky said. "I think Aimee really loved him — she really did. After she died, he went to her funeral and was father to her godchildren. I think she wanted to keep McPherson's name for that reason."
Edward Watts plays the husbands on both sides of McPherson. "The biggest thing I like about them is that they're two completely opposite characters," he said. "As a matter of fact, a lot of times people don't realize I play Robert Semple in Act One — the Irish preacher with the dark hair. It happens so often. I don't know if that's sort of a double-edged sword, because maybe they don't recognize it and walk away not knowing. But I love that I get to play such very different characters in the show."
Watts makes a more distinct mark as David Hutton, the blond matinee idol who spends most of Act Two in beefcake mode playing Aimee's Biblical tableaus like Adam and Samson and Moses' Pharoah. "Some day people will not pay me to take my clothes off so, until that day happens, if they want to, I'm game," he reasoned.
He's another Carmello fan. "Carolee is an absolute joy. She's one of those actresses who is with you at all times. There's such immense communication between us when we're working together. She gives you everything. It's so easy to work with her, and it was especially moving tonight for so many reasons, not the least of which was that it was opening night and all of us were so emotional getting into it, but, as most people know, she was out yesterday on vocal rest. For her to come back and give a powerhouse show is extraordinary. She's a rock star. We love her to death."