PLAYBILL ON OPENING NIGHT: The Big Knife—Odets, Poor Debts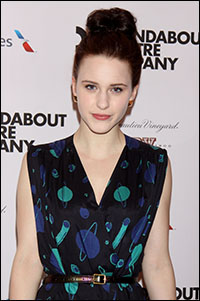 Photo by Joseph Marzullo/WENN
Ana Reeder plays one of several chippies who parade through Charlie's playroom—"She's just so bad, so unapologetically bad"—and she does it in a fetching red wig provided by Tom Watson. "It's fun being a redhead. My little sister is a redhead."
The most memorable tart is Dixie Evans, a contract player at odds with the system ("They louse you up and call you lousy!"), but it's a very pivotal part in the play, and it rated special billing in the 1955 movie version: "And Miss Shelley Winters."
"I never watched the movie, actually," said the play's Dixie, Rachel Brosnahan. "I hadn't seen it, and I didn't want to see it because I didn't want to be influenced.
"What a fun part to come in on. She has been introduced, and she's got this bitter scene where she has every emotion under the sun. She's laughing, she's crying, she's scared, she's happy—and then she disappears. It's a full character arc in one scene.
"This whole play has really been a trip. To make my Broadway debut in such esteemed company—Bobby, Marin—it's been a joy to come to work every day. There's such a youthful energy in the cast, and they're also so wonderfully supportive and talented. The benefit of being in one scene is you get to watch them."
The name-brand cast brought out a name-brand set of first-nighters: Neil Simon and Elaine Joyce, director Evan Cabnet; Oscar winner F. Murray Abraham (who'll sing a Steven Mercurio piece inspired by Eugene O'Neill in Prague in July); two-time Tony winner Cherry Jones and Brian J. Smith (coming next fall in The Glass Menagerie); Simon Jones (working on a Thomas Meehan workshop of Robin Hood: The Final Adventure as King John); Arian Moayed, acting couple late of Ten Chimneys, Carolyn McCormick and Byron Jennings,; Cass Morgan and Debra Monk of the original Pump Boys and Dinette; Dallas Roberts ("Just came to see Bobby [on] Broadway"); David Schwimmer (who just finished directing a half-hour NBC pilot with J.D. Simmons and Parker Posey called D.J.Nash); lyricist-director David Zippel; the star's son, Jake Cannavale of "Nurse Jackie"; Edward Hibbert; comedienne-producer Jamie deRoy and Tony Lo Bianco; a bearded Jason Butler Harner (who'll shoot a film in L.A. and then do "a play I'm really excited about"); Kate Jennings Grant; Laura Benanti (waiting to see if her series, "Go On," will go on a second season); and Steven Pasquale (who's playing Kelli O'Hara's husband in Far From Heaven June 2 at Playwrights Horizons); Madeline Brewer; writer J.T. Rogers ("at work on a play and a film"); Martha Plimpton; Morgan Spector from Harvey; Patricia McGregor and playwright Stephen Karam; director Moises Kaufman; Glengarry Glen Ross' Richard Schiff (in a hat, as perhaps an homage to the play's vintage); Stephen Lang (who just finished an ABC pilot, "Reckless," and will start a Joan Allen movie based on a Stephen King work called "The Good Marriage"); Debi Mazar; [title of show]'s Susan Blackwell; Trudie Styler sans Sting; director Michael Greif; Anne Kaufman; actor-playwright Michael Cristofer; "Uncle Mame" biographer Eric Myers; Omar Miller; composer Charles Strouse and wife Barbara; set designer-director Tony Walton and wife Jen; Tony Roberts; and Tovah Feldshuh.
Watch Playbill Video's highlights from the production: