PLAYBILL ON OPENING NIGHT: The Heiress, For Love or Money
Chastain spent the evening on stage resolutely deglamorized, save for some stunning Albert Wolsky gowns that make entrances all by themselves, and arrived at the Edison Ballroom for the after-party — like a butterfly effect — her old movie-star self, elegantly gowned, her auburn hair swept stylishly over her shoulder (unlike the mousey mop that hair designer Paul Huntley provided for her).

She even pleaded guilty to a prosthetic nose (which may, or may not have, shrunk in previews). "I can put it on myself," she beamed blissfully. "It's not a big deal, really. I just thought it was important to alter my appearance from how people know me."

Unlike Olivia de Havilland, who has said she owes some of her Oscar for Catherine Sloper to a "wicked, selfish" playing partner — specifically, to Ralph Richardson, who adopted the personality of Dr. Sloper during filming and tried his Oscar-nominated damnedest to steal scenes — Chastain had nothing but praise for her stage dad. "I love working with David Strathairn. He was so helpful. I've learned a lot from him."

This is something of a father-daughter stage reunion for Strathairn and Chastain, who first did those roles in a 2004 Richard Nelson play at Playwrights Horizons called Rodney's Wife — and, if you thought the Slopers were screwed up, welcome to the 20th century! "It was a very different kind of character," she allowed. "It took place in the 1960s, and I played his daughter, who was a closet lesbian who is having an affair and in love with his current wife, my stepmother [Havilland Morris]."

Something else the two have in common: both are currently getting Oscar buzz — Chastain for Kathryn Bigelow's Navy SEAL saga, "Zero Dark Thirty," and Strathairn for his third-billed (after Daniel Day-Lewis and Sally Field) performance of Secretary of State William Seward in Steven Spielberg's $50-million epic, "Lincoln."

"The script by Tony Kushner is extraordinary, and Daniel Day-Lewis will set the bar very, very, very high in terms of a Lincoln impersonation," Strathairn promised.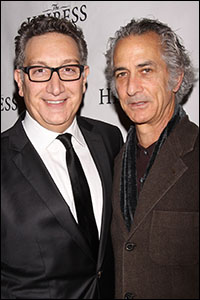 Photo by Joseph Marzullo/WENN
Only 15 years and 200 miles separate "Lincoln" from The Heiress, and the actor looks at home in both. "I don't know how comfortable I feel in the 19th century," he said. "It's kind of a contained, restrictive time, but it was certainly full of potent men and women who could deal with what was happening in the country at that time."
What does he think of the character he is playing in The Heiress? In two words: "Not much. It's quite a challenge to make this man more than a tyrant. I think he is full of complexities and complications, and that's sad — sad for everyone involved."
Britain's Dan Stevens bounded across the pond (and, specifically, TV's "Downton Abbey") to make his Broadway debut here as that amorous interloper Morris Townsend, and he likes that the character is unequivocally, a question mark. "There are ambiguities in a lot of the roles in this play, and the part that the audience picks can shift so quickly and so readily. That was one of the things I noticed when I was reading it. The first time I read it, I saw it one way — and I sat down and immediately read the play again, and I read it in a completely different way. I think you get that experience from watching it. You can judge Morris in one way or you can judge him in another, and we like to leave some of the questions that you might ask about him unanswered. Audiences come away feeling very different about him, and I love that."
How does the character stack up against the Matthew Crawley he plays on the "Downton Abbey" series? "If there's any comparison at all, they're middle-class outsiders, but Matthew is walking into a huge inheritance, and Morris had a bit of money but it seems to have disappeared one way or another, and he's desperate to find some security in New York society in that time. I think Morris is more of an esthete than Matthew. Morris has a great appreciation for beautiful things."