PLAYBILL ON OPENING NIGHT: The Heiress, For Love or Money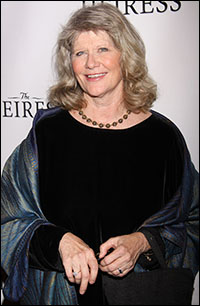 photo by Joseph Marzullo/WENN

Stevens made his break for Broadway after Season Three of the series was filmed. Enlivening these episodes, he said, was the addition of Shirley MacLaine to the cast, popping monocles right and left as the feisty American mom of Lady Grantham (Elizabeth McGovern). "She was hilarious, a lot of fun, very entertaining to have her on set. Strangely, she was a huge fan of the show. When she came, she was so excited to meet us and, in her intimate way, gave each of our characters relationship advice, telling us how we should behave in Season Three. 'Oh, you don't want to be with him. You should be with him.' Everybody fell in love with her very quickly."

Dr. Sloper's sister, Lavinia Penniman, functions as the flibbertigibbet matchmaker for the lovers — a romantic airhead who, late in the game, develops surprising spine.

Traces of Amanda Wingfield flutter around Aunt Lavinia. "They're relatives, aren't they?" agreed Judith Ivey, who has now played both roles. "I think that they would probably hang out together. They might irritate each other, though."

Ivey explained, "Aunt Penniman isn't always thought of as being that funny. I always look for the humor in a character, and then I leave it up to the director to say, 'I don't want her to be funny at that point,' which is what Moises did. I just feel that's my job — to come in and give you who I think she is and mine it as much as I can. The script often says, 'No, no, it's not funny' so, of course, you don't find anything funny."

The script speaks up in the final stretch when Ivey turns ramrod-tough and confronts her brother about the terrible mess he is making of her niece's life. "That's something that has developed in the past week or so, finding that side of her," Ivey said. "Someone who's that passionate and that happy can also have that dark side and attack him and say, 'Why are you doing this? You're destroying her life.'"

Lead producer Paula Wagner, sumptuously outfitted in a swirl of black lace, was plainly pleased at what she had put together. "I love The Heiress and always have," she admitted. "It has a great woman's role — a triumphant, fascinating female character. And it's uniquely contemporary, even though it's set a century and a half ago."

Liv Ullmann, out of nowhere, led the parade of first-nighters with her ex, actor Donald Saunders. The celebrity-lite night included Jessica Brown Findlay, who plays Lady Sybil Crawley on "Downton Abbey"; a dashingly bearded "White Collar" worker Matt Bomer (role-shopping, perhaps?); Luigi Caiola, who's also money-bagging Glengarry Glen Ross, Who's Afraid of Virginia Woolf? and The Anarchist this season; Jeffrey LaHoste, Kaufman's partner and artistic collaborator; Tony winner Anthony LaPaglia, the once and future Nixon via Checkers as soon as The Vineyard is free of Sandy woes, with his Aussie-actress wife, Gia Carides; Sony Pictures Entertainment's Lia Vollack; and, crucial to the evening, Judy Goetz Sanger, the author's poet-offspring.