PLAYBILL ON OPENING NIGHT: The House of Blue Leaves — Sunnyside Up and Scrambled
Artie's home-front needs all the melody it could get, with the bathrobed Bananas moping about sad-eyed and lost. Falco admitted she didn't do a deep-dish analysis into what ails her character. "You just run it and you run it and you run it, and, hopefully, after a while, it starts to morph into something that is interesting to watch," the actress admitted. "I never know how I get there. That's the God's honest truth. I just know — at least I believe now — that something does happen. I don't have to make something happen — just show up and continually run the piece."

She's a sobering presence around the place, and for that she credits Cromer. "He was really uninterested in having it be a cartoon. He made it clear very early on that we're doing a show about people — about real-life people and everybody struggles and the things they care about. This play has been done cartoonish, from what I understand, so he said he was interested in doing something different."

"Something different" feels like emotionally unchartered turf to Leigh, as the manipulative little mantrap one floor down. "In a way, it's free-fall," she said, "but it's so beautifully directed within that. It's a very risky play in certain ways, but in other ways it's so beautifully constructed. The audience really goes with it. It's exciting to see someone laughing so hard, and then there'll be a mysterious monologue. Really, they go from laughing so hard and so loudly to where you can hear a pin drop. It's exciting as an actor to feel those shifts, and this play has so many of them and so many different styles, yet the way David has directed it, it holds them all.

"I'm sad we're opening because I'm going to miss seeing him every day and working with him. I'd come up to him at night and say, 'Tonight, what am I going to do?' And he'd give me one note to play for the night. It's just a fun thing we started doing."

Halley Feiffer marks her Broadway debut as the so-billed Little Nun, who starts out with few lines and abruptly emerges in the last scene as one of the play's most haunting characters. "That's why she's so funny," Feiffer said, underlining Guare's little joke. "This character comes out of nowhere. You think that she's one thing — 'Oh, I get it. She's one of the nuns' — and then she stays because she hates the convent so much she doesn't want to go back, and she finds a home and solace and refuge in this kooky family who don't love her back but she loves them.

"This is one of my favorite plays, ever. When I read the script, I barely remembered the character was the Little Nun, and, through working with David, we discovered so much about this character. David has said there's only one character in the play who has a spiritual awakening, and that's my character. I am able to look at all this chaos and devastation around me and still see joy and light and beauty. I have this cheery, optimistic, positive outlook in the face of what other people could think of as bleakness. I have a true awakening. I think that it's extremely beautiful and funny."

A vintage gown instead of her nun's habit and a new wig earn Feiffer a big audience double-take. "The wig," she noted, "is all David's idea. David modeled the character after a tragic girl he went to high school with. He wanted a truly black wig for me."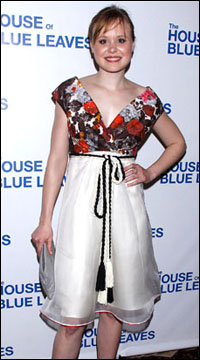 photo by Joseph Marzullo/WENN
The Alison Pill we know and love is likewise lost behind wig-and-gown camouflage, as the immaculate movie star moving gingerly through the ruins of the Shaughnessys' seedy apartment. Her deafness makes her unperturbed by all the turbulent togetherness. Corrinna, being deaf, is "so fascinated by what's going on on stage" but has "no real concept of what's going on around" her.
Playwright Guare bopped by to grab a hand-kiss from Pill like some gentleman of the old school. "Alison is one of the finest actresses around these days," he declared within ear-shot of the press. "She didn't have to be gorgeous. Talent was enough."
Although they had plenty of scenes together in reasons to be pretty, Pill and Sadoski have no scenes together in The House of Blue Leaves, even though the characters are engaged. Playing Artie's best bud, he commits an unforgivable act that flies in the face of that friendship, but he does it in such a casual way that it seems not to rock the boat much. Asked how he got away with it, Sadoski said, "You gotta make the leaps. John puts them in there for you to make, and you gotta find out a way to make them. Sometimes it's hard to make that leap, but John has been so good about helping, saying, 'This is what I think it comes from. Find something real inside of you to help inspire you to make that big leap.' I think we've done a pretty good job of it."
This is Stiller's second Broadway show — and the second time he has resided in The House of Blue Leaves. At 21, he was the soldier-boy anarchist; a quarter of a quarter of a century later, he has returned as the head of that house. But Abbott, who plays Ronnie now, said that no notes or acting tips have passed between them.
"He didn't throw me any advice," admitted the new Ronnie, "but he's definitely a lot of support, always joking around. The thing about this play — and, actually, with any play — is, like, the words are there. It just naturally gets richer and deeper and much more fulfilling, therefore much more fun to do. The fact that your mind plays that little game where you go in and out and you almost really believe it sometime."
The big after-party was splashed over three floors of Sardi's, and it still seemed like the whole theatre of first-nighters showed up to celebrate. It was very cramped, but full of good-cheer as well, and that feeling started with the arrivals.
Anne Meara, who was Bunny in the original 1971 Off-Broadway production of The House of Blue Leaves, and hubby Jerry Stiller showed up in support of their son, the Broadway Star, and worked the press line like the vets that they are.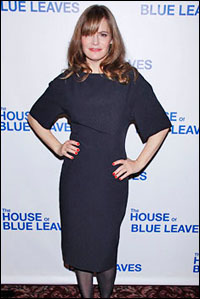 photo by Joseph Marzullo/WENN
"It's an exciting time for Anne and myself right now," Stiller allowed. "People keep coming up to me in all these odd places and telling me Ben's wonderful. Meanwhile, he did not want me to see it before it opened. I used to come around and second-act him all the time when he was doing it the first time at the Mitzi Newhouse when he was doing Ronnie. But, now, he said, 'Dad, stay away.' So I really am built up for this moment. I'm more nervous for him than I would be for myself at a time like this."
Both parents continue to toil in the showbiz vineyards. Meara is having a run April 27-May 29 at Love, Loss, and What I Wore at the Westside Theatre on West 43rd, and Stiller has lined up a summer play: "I just did a reading for Peter Shaffer and Tony Walton — a play called The Gift of the Gorgon — with Alec Baldwin. He's my father. We're Russian emigres, but you wouldn't know it from listening to us — except me. We're going to do it out in Long Island in July. It's an amazing kind of show that deals with Greek tragedy and how it affects a writer who wants to put everything that's true in life out on the stage, and it becomes something of a problem because people don't like unhappy endings."
Stiller the younger just finished a caper flick in the city, "Tower Heist," with Eddie Murphy, Tea Leoni, Casey Affleck and Gabourey Sidibe — and others from that film's cast stuck around for the opening: Glengarry Glen Ross's Alan Alda, Fences' Stephen McKinley Henderson and the previous How To Succeed's Matthew Broderick. Broderick and Nathan Lane — Together Again — doubled up for the press gauntlet, leap-frogging through the reporters in half the time. Smart guys, those Producers.
Another Stiller film that was well-represented was "Tropic Thunder," via Steve Coogan (in town promoting his new flick, "The Trip"), Jay Baruchel (Pill's beau) and Christine Taylor. She is also Mrs. Ben Stiller and "more excited than nervous. I've done movies with Ben and I've done movies before Ben, and now I'm in Mom mode" (to Ella, 9, and Quintin, 5).
Falco had her following, too — musical ones, in fact: Melissa Etheridge ("My partner [Linda Wallem] is the creator of 'Nurse Jackie,' and I became good friends with Edie through that") and Liza Minnelli ("I've seen this, and I'm coming back again because I liked it so much. And also I wanted to support my friends. I know Edie. I've met Ben, but I'm rootin' for the girls."). Indeed, for the second night in a row, La Minnelli made her way back to the press area to personally congratulate the stars. When Falco finally arrived, the two of them jumped for joy.
As Monday is a dark night for most Broadway shows, stars were uncaged from Bengal Tiger at the Baghdad Zoo (Glenn Davis and Arian Moayed), The Motherf**ker With the Hat (Elizabeth Rodriguez and Yul Vazquez) and Jerusalem (Geraldine Hughes and Max Baker).
Also: Bob Stillman (taking a night off from the McCarter and Sleeping Beauty Wakes, a new musical by the people who did Striking 12), The Public's Oskar Eustis, Yank choreographer Jeffry Denman, Cabaret's Alan Cumming, Long Story Short's Colin Quinn, Go Back to Where You Are's Brian Hutchison, Ireland-based playwright Sally Ottway, George Stevens Jr., interior designer Nate Berkus, Malcolm Gets (still bearded from his West Coast bow of the Little Miss Sunshine musical), Jason Butler Harner (currently rehearsing Through a Glass Darkly with Carey Mulligan and Chris Sarandon, under David Leveaux's direction) and Tamara Tunie.
View highlights from the show: