PLAYBILL ON OPENING NIGHT: The Realistic Joneses — Well, You Know Eno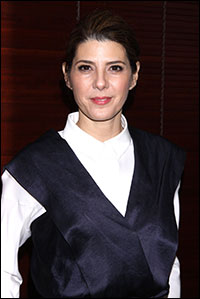 Photo by Joseph Marzullo/WENN

Jason Robert Brown and Marsha Norman, authors of the musical The Bridges of Madison County, and Richard LaGravenese, who adapted the 1995 movie — having figured importantly in the previous Jeffrey Richards' Broadway production — led the big parade of celebraties that glittered up his latest Main Stem enterprise.

Brown, biding his time until his Tony nomination comes through for his gorgeous Madison County score, said that the cast of his Broadway-bound Honeymoon in Vegas (Rob McClure, Tony Danza, Brynn O'Malley, Nancy Opel, David Josefsberg and Catherine Ricafort) got so antsy waiting around for a theatre that they organized a couple of concerts of the show's songs for 54 Below (7 and 9:45 PM) April 7.

Leslie Uggams finished preparing her new act, "Classic Uggams," which, she said, "is not just classic songs but it's also about classic people I have worked with like Sinatra, Sammy Davis Jr. The Beatles and, of course, Marvin Hamlisch."

Elizabeth Ashley, who was in both of Richards' revivals of The Best Man and has a lifetime pass for these things, was glamorously in attendance, of course.

Between "Fashion Police," and the fourth season of "Joan and Melissa," Joan Rivers found time to come out for Toni Collette, "whom I'm so excited to see on Broadway."

Brian J. Smith, the Gentleman Caller of the recent The Glass Menagerie, and Jeremy Shamos, who has another week to go on Dinner With Friends, know where their next roles are coming from, but are contractually forbidden to reveal it right now.

Frederick Weller of Mothers and Sons and Sophie Okonedo of A Raisin in the Sun were congratulated on the glowing notices but confessed they hadn't read them yet. "Neil LaBute came to see the show today," Weller noted. He and the writer-director of his Reasons To Be Happy and The Shape of Things plan to be back on Broadway in the fall in The Money Shot, a drama about a porn film with a special problem.

Laura Osnes, a long way from Cinderella in The Threepenny Opera opening April 7 at the Atlantic, and Santino Fontana, one of the Moss Harts in Act One opening April 17 at the Vivian Beaumont, raced over from their matinees to make the opening.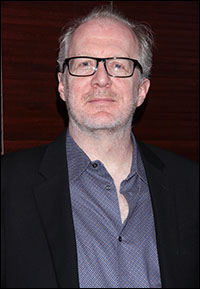 photo by Joseph Marzullo/WENN
Fontana seemed particularly tuckered. "When you see the show, you'll see why," he said. "It's a three-story set, and I'm constantly running up and down stairs. For the sake of my legs, I'm glad that this doesn't go on for hours. It says a lot about the character of Moss Hart. He was so determined to be successful in the theatre."
As if Rocky wasn't heavy-lifting enough, director Alex Timbers is busy trying to get David Byrne's epic Imelda Marcos musical, Here Lies Love, up and operative for its return to The Public. It starts previews there April 15 for a May 1 opening.
Tom Wopat said he was working on a Christmas album with his "Dukes of Hazzard" bro, John Schneider, and would be playing Iridium with his own band in July.
Brace yourself for Everyday Rapture 2. Right now, said Sherie Rene Scott, her "possible sequel" is called The Untitled Dick Scanlon/Sherie Rene Scott Prison Piece. "We'll do a workshop at Second Stage this summer," she promised.
The much-murdered Jefferson Mays of A Gentleman's Guide to Love and Murder seemed to be holding up nicely after his matinee. "I seem to be still vertical and in possession of most of my faculties," he said after a short assessment.
Director Jo Boney said she finished the lab for Suzan Lori-Parks' new play, Father Comes Home From the War, and will do it again at The Public in the fall. And she added there may be an afterlife for her recent Small Engine Repair.
Also in attendance were David Costabile, David Cromer (also of Raisin), Eric Bogosian, T.R. Knight, Terrence McNally, Neil Pepe and Jeffrey Tambor.