PLAYBILL ON OPENING NIGHT: The Winslow Boy — A Courtroom With Furniture and French Doors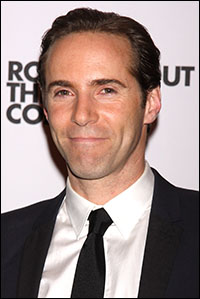 Photo by Joseph Marzullo/WENN

This is her first Broadway appearance since Man of La Mancha 11 years ago. "It's a terrific play. I'm very familiar at this point with Rattigan, having lived in London for years and years. We can say the English are very cool and very on-one-back-foot, but actually Rattigan has written this family that really quite like each other. They're very warm, very funny, very tolerant of each other. You don't always see that.

"I love the main scene Arthur and Grace have together, but I just quite like them all. I like the way the rhythms work. A lot has to do with what the actors are doing as well."

Director Posner said the thing he was proudest of with this production was "the company chemistry. The whole ensemble is playing with the rhythm and the beauty of the piece very well indeed. A great achievement is that they managed to find a sense of Britishness about it, which is a typical thing just as odd as it is for British actors to find what is quintessentially American in American plays, and I think they really pulled it off. I do feel I'm watching a British play when I'm watching it."

What does he want American audiences to take home from the play? "I hope they feel uplifted in the way Arthur Winslow has stood up against the establishment and persevered and won a cause based on right. In that sense, it speaks very clearly to Rattigan's period and now. I also think audiences will be moved by the complexities of the family dynamics, which are very accessible and beautifully written."

Roger Rees, who stars as the determined patriarch, plays the part without a whiff of sentimentality, and that was the way Posner wanted it. "I was very keen that he didn't. I think it's all the more moving for that reason. I think if you start playing that part for sympathy the play becomes sentimental in the wrong way and a bit flabby."

Rees has seen the play a lot and is following some of his favorite actors in the role (including Nigel Hawthorne, who did it in David Mamet's movie remake). "I love the role. You have to love the characters you play. If you're playing Iago, you love Iago." Born in Wales, Rees has been a regular in New York theatre since he won the Tony for the title character in The Life and Adventures of Nicholas Nickleby in 1981.

Charlotte Parry is a Brit who has been based in New York for eight years and very well used by Roundabout in British plays like The Importance of Being Earnest, Look Back in Anger, Howard Katz and now this. "Oh, I love playing Catherine," she admitted. "She's very headstrong, very passionate, very ahead of her time — a suffragette feminist. They refer to her as 'the new woman.' She's so complicated, and I love she's written so strong and witty and, at the same time, she has a sensitive side and is feeling so much. I don't feel people write characters like that very often.

"Rattigan makes it so easy to (a) learn the lines and (b) play them because he got each character down so individual and so right. He's just an actor's playwright."