PLAYBILL ON OPENING NIGHT: The Winslow Boy — A Courtroom With Furniture and French Doors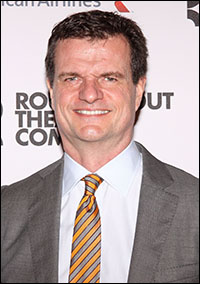 Photo by Joseph Marzullo/WENN

Michael Cumpsty and Chandler Williams, who both came to prominence as the martyred British soldier in Broadway productions of Brian Friel's Translations a decade apart, are the suitors who are swarming around Catherine Winslow.

Williams, the straitlaced fiancé who finds Catherine more than a handful, brings a lot of physicality to the role. "A play like this gives itself over to broad gestures and really doing things with your body. With smoking, I like to drop my arm when I hear bad news. I love doing stuff like that. There should have been more smoking in this play."

Stiff and stuffy, Cumpsty has a playfully poignant proposal scene and later, in the press reception line, he said he thinks it did the trick. "I think he gets the girl. I think she marries him. Of course, she won't be very fulfilled, but I'll be very happy."

Zachary Booth as the older Winslow brother knows his place in the play. "I think I'm one of the examples of what the cost does to the family. I'm in Oxford, and I'm derailed, unceremoniously removed. I'm forced to grow up a little bit due to the financial restraints that come as a result of the case. It's the amount of money they spend on getting the best lawyer. It costs the family quite a bit, but I like Dickie in the end. He comes back. He's working hard. He's going to join the Army."

The dark clouds of World War I are gathering in the distance, and they would claim the real Winslow boy, George Archer-Shee, four short years after the play's end.

Spencer Davis Milford, newly turned 18 and making his Broadway debut in the title role, was dealing with this milestone on opening night. "It feels amazing. There's a big rush of energy going through me right now. It's very exciting. It's been an incredible experience working with such accomplished actors. I've learned a lot."

Admirers of "the well-made play," of which Rattigan was the acknowledged master — themselves practitioners — headed the list of first-nighters: Neil Simon, Adam Gwon, John Weidman and Rick Elice.

Lyricist Sheldon Harnick and wife Margery had a double reason for attending: (1} Rees is a neighbor of theirs on the Upper West Side and (2) Lindsay Posner directed a London revival of Fiddler on the Roof, starring Henry Goodman (who did Rees' role in Posner's The Winslow Boy earlier this year in London) playing Tevya.

"What was that guy's name again? Lindsay Lohan?" the lyricist teased.

Encompass New Opera Theatre is throwing Harnick a 90th birthday party (six months early) on Sunday, Oct. 27, at The National Arts Club. In addition to "Happy Birthday," a host of Harnick evergreens will be reprised by a pretty starry ensemble.

And York Theatre Company's Musical in Mufti series will be parading five Harnick nuggets in a row after the first of the year: Sheldon Harnick: A World to Win (Jan. 17-18), Dragons (Jan. 31-Feb. 2), Malpractice Makes Perfect (Feb. 14-16), Smiling, the Boy Fell Dead (Feb. 21-23) and Tenderloin (March 7-9).

Other first-nighters: Alexandra Silber, Andrew Rannells (mustachioed!), Carolyn McCormick, David Zippel, Dick Scanlan, director Evan Cabnet (basking in his The Model Apartment raves), Chris Bauer, Christian Borle, Constance Shulman, Reed Birney and Margaret Colin (soon to be seen in Manhattan Theatre Club's Taking Care of Baby), Seth Numrich, director-choreographer Rob Ashford, Victor Garber and, from "The Newsroom," Mrs. Alessandro Nivola: Emily Mortimer.