PLAYBILL ON (RE)-OPENING NIGHT: A Little Night Music — All Smiles on a Summer Night



Photo by Joseph Marzullo/WENN
*

You don't just sprinkle Bernadette Peters and Elaine Stritch on a still-standing Broadway show from last season and give them a tinny ta-da!

No, attention must be paid! Consequently, when this two-star extension of Stephen Sondheim and Hugh Wheeler's gossamer sex-comedy, A Little Night Music, officially commenced extra choruses at the Walter Kerr on Aug. 1, its 23 producers deemed the occasion "a soft opening" and took over all three floors of Angus McIndoe to celebrate and bow deeply to these ladies who launch (again).

"Smiles of a Summer Night," Ingmar Bergman's uncharacteristic (if not lone) 1955 comedy on which the show is based, was reflected wall-to-wall on every floor at Angus', lingering from a much-cheered matinee and settling into full party bloom.

The nitty-gritty press particulars were reserved for the top floor. The middle floor was for reserved for the semi/mini-burgers, pigs-in-a-blanket and tonier hors d'oeuvres. And the first floor was, as usual, for seated-to-be-seen celebrity placement.

All evening, stars and cast members trickled down from on high to the main dining area where the light turnout of celebrities, knowing their place, had already settled.

Phyllis Newman and Nancy Schlesinger made themselves right at home there, opting not to make the steep hike upward. They exotically motored over, one-man power, from the theatre in a pedicab. Game gal, our Phyl — and whattamom, crowing that her talented daughter, lyricist Amanda Green, had two shows on the brink of lifting off.

At the theatre, they clucked and trilled appreciatively over the show with Barbara Cook, who sat in front of them and concurred completely. It was clear throughout that Cook got a huge kick out of pal Stritch mining laughs out of lines that never had laughs before — to say nothing of Peters' exquisite rendering of "Send in the Clowns," a tune Cook was more than a little familiar with — having just reprised it in Sondheim on Sondheim. Indeed, last season she was one of two stars who made the Tony running with the help of that gorgeous ballad; the other, of course, is Night Music's Catherine Zeta-Jones, who has taken her Tony and her movie-star hubby and headed for the high ground of big-budget films.

[flipbook] Mary Tyler Moore skipped the party scene but reportedly stuck her head backstage and gave Peters four barks. (They co-founded the Broadway Barks charity.)

Considerable baying at the moon could be done over Peters' Night Music triumph, and, to hear her tell it, this utterly accidental second-coming of the show came about in the most casual — quite literal "oh, by the way" — manner. "Stephen and I were talking about something else on the phone," she recalled, "and, he went, 'Oh, by the way, the notice just went up today that we're closing. Did they ever call you about replacing Catherine in Night Music?,' and I said, 'No,' and he said, 'Oh, well, I thought you'd be a sensational Desiree.' He called them the next day. Then they called my agent, and that's how the ball got rolling. Then came Elaine.'"

Peters sounded like a Vanities cheerleader about the show: "Stephen said, 'This is just a great book.' He's so right. Audiences just love this show. It's so much fun. And it's a funny book. And it's touching. Then, you get to the cast. Every single one is a primo Broadway performer — they're all fantastic. Then, you get to their voices, which are glorious. Then, you get to the music and the orchestrations. I swear! I sit backstage, going, 'I want to go home and listen to the album. It's so beautiful.' I'm going to get overloaded! Every day I hear music in my head from the show — not my songs."

Just to inject a little leveling note here, that's the rub: "My songs." Yes, she scores and scorches and brain-burns with "Send in the Clowns" — received by a rapt audience, who thanks her thunderously and at length — but that's just about it.

"Send in the Clowns," Sondheim's one certifiable hit, was the last bauble that he added to his rich and bountifully melodic all-waltz score, and it was last because he wrote it specifically to the sound of the voice of the original Desiree Armfeldt, Glynis Johns, who was making a tentative and relatively untaxed attempt at her Broadway musical debut. Those who have followed her in the role in revivals are usually strong singers who are brought up short by its vocal demands — much like Frank Sinatra signing up to play Nathan Detroit in the Guys and Dolls movie and then discovering that they only trusted Sam Levene with "Sue Me."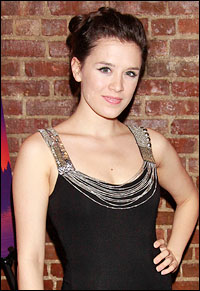 photo by Joseph Marzullo/WENN

The song-shortage was naturally not lost on Peters. "When I took Desiree on, I thought, 'Oh it's really just a song and a half.' But then I went, 'No, there's a lot going on in this role, a lot of acting, a lot of book scenes. There's so much to play here.

"It's funny. Even though there aren't other songs, I don't feel I'm missing anything because the arc of the character is so there. The story keeps getting more pronounced, and I keep telling my story, as everyone else tells their story."

Her Desiree is the queen bee of the evening, a barnstorming actress on tour in the Swedish provinces at the turn of the last century, with two swains on her hands — both, of course, married. The swaggering Count Carl-Magnus (Aaron Lazar) has a slightly lighter sentence for his infidelity, having only to contend with his bitterly brittle wife (Erin Davie). Less blessed is a much-older flame, lawyer Fredrik Egerman (Alexander Hanson), who has yet to consummate his marriage to the much-younger Anne (Ramona Mallory), and already his teenage son, Henrik (Hunter Ryan Herdlicka, is taking a serious shine to her — whenever he is not resisting the blowsy frontal enticements of the family maid, Petra (Leigh Ann Larkin). You may want to lie down now.

Were this Feydeau, there would be more doors to slam than this transplant from London's Menier Chocolate Factory permits at the Kerr. But the stage is definitely set for farce, and Sondheim's intricately interwoven first-act finale, "A Weekend in the County," rounds up the above for some bawdy fun 'n' games at the Armfeldt estate.

Lording over the amorous commotion — while blissfully above it all and oblivious to it — is Stritch, an elderly courtesan resting on her, er, laurels and scandalously ill-gotten gains. She is scootered around the premises in a wheelchair that, at the performance I saw, could conceivably have been self-propelled with exit applause.