PLAYBILL PICKS: Breakout Performances of the 2013-14 Broadway Season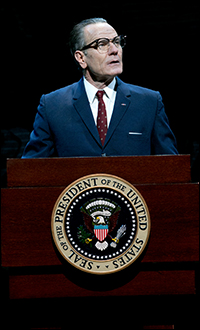 Photo by Evgenia Eliseeva

After bidding farewell to "Walter White" on the AMC drama series "Breaking Bad," three-time Emmy Award-winning actor Bryan Cranston made his Broadway debut as President Lyndon B. Johnson in Pulitzer Prize winner Robert Schenkkan's epic political drama All The Way, which opened to critical acclaim. Without crossing the boundary into impersonation, Cranston — who rarely leaves the stage during the three-hour production — captures the various facets of the towering American leader's personality, from the engaging confidant to the political bulldozer. Part of the excitement is watching Cranston, who appears to be having the time his life. "He was bigger than life," Cranston told Playbill. "Sometimes he was friendly, sometimes he was vicious. He would cajole, he would threaten, he would pressure, he would hug. He swung so wide on the spectrum of human emotions in order to accomplish what he felt needed to be done. It doesn't take much time for an actor to look at that and go wow, how wonderful and frightening to step in those shoes."