PLAYBILL PICKS: Breakout Performances of the 2013-14 Broadway Season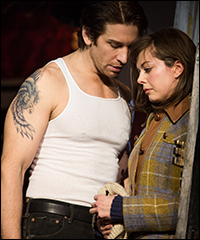 Photo by Matthew Murphy

Margo Seibert made her Broadway debut as Adrian in the anticipated stage adaptation of "Rocky," about a boxer who rises to the top of his career and falls in love with a shy sales clerk. Seibert, who appeared in the Prospect Theatre Company production of Tamar of the River and regional productions of Candide at the Goodman Theatre, In This House, Orestes: A Tragic Romp at Two River Theatre Co. and Pregnancy Pact at the Weston Playhouse, was tender in her first-act numbers "Raining" and "The Flip Side" and commanded the stage in the second-act ballad "I'm Done." "It's that underdog story of the two of them," she said on opening night. "Can they overcome what holds them back and will they really succeed? You just don't know. Can Adrian overcome it? You want her to, of course. I don't think she knows how not to be honest, and I love that about her. You can see her struggle, how much she cares about Rocky but how scared she is to let that out and jump off that cliff and live a little, but they have that slow burn together and you get to see more and more of her true colors."