PLAYBILL PICKS: Breakout Performances of the 2013-14 Broadway Season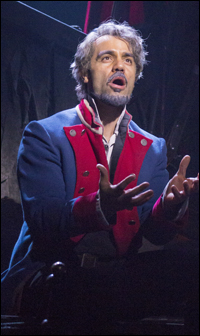 Photo by Matthew Murphy

Ramin Karimloo made his long-overdue Broadway debut in the 2014 re-imagined and re-envisioned revival of Les Misérables. The actor, noted for his West End turns in The Phantom of the Opera and Les Miz, was in pristine voice during press performances of Les Miz on Broadway. The performer, who became the youngest actor to take on the role of the Phantom, was inspired to pursue theatre after seeing Colm Wilkinson (the original Jean Valjean on Broadway) in the title role of The Phantom of the Opera. Before Karimloo headed to Broadway as Valjean, he and Wilkinson performed "Bring Him Home" — a performance that is not to be missed this season on Broadway — at a special charity performance of Les Miz in Toronto. He said, "I had waited for his autograph when I was [a boy] and now, I sat in my dressing room and there was Colm jamming on the guitar and there I was on the banjo, and I thought, 'How has my life turned out like this?' Everything I could have asked for as a kid, I've got." Read the whole Playbill feature on Karimloo here.