PLAYBILL PICKS: Breakout Performances of the 2013-14 Broadway Season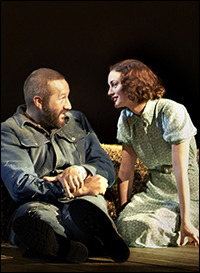 Photo by Richard Phibbs

Another familiar face from Hollywood to make their Broadway debut was Chris O'Dowd, who co-stars with James Franco in the Broadway revival of John Steinbeck's Of Mice and Men. O'Dowd takes on the physically imposing character of Lennie, the mentally challenged migrant worker, with a childlike wonder that magnified the tragedy of the drama's inevitable conclusion. "To be honest, it was hard to know exactly what was wrong with Lennie because it wasn't specified," the actor told Playbill following the opening night performance. "Also, it was such a long time ago they didn't know how to diagnose things like that, but I decided there was a guy I knew in my life I could use. I felt like if I was specific to what was wrong with him, it would work — and that was all I really worried about. I wanted to make it exactly specific to this guy I knew who had a cognizant disability, and I thought I'd do exactly as he was, so I just went with that."