PLAYBILL PICKS: Breakout Performances of the 2013-14 Broadway Season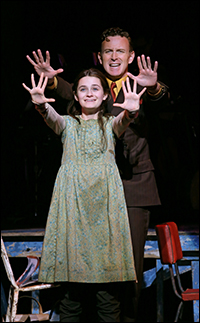 Photo by Joan Marcus

Young actress Emerson Steele made her Broadway debut as Sutton Foster's childhood counterpart, Young Violet, in Jeanine Tesori and Brian Crawley's Violet. The 14-year-old actress wrote in her Playbill bio that she is "elated and grateful" to share the stage alongside her "idol" and told Playbill.com on opening night, "It was so exciting. I was really, really nervous a few hours before we started, but as soon as I stepped on stage, it was just the most exciting thing. To get to do this at 14 years old is just so incredible." The actress played Young Violet in the one-night-only staging as part of Encores! Off-Center series. Steele brought light to the role of Violet, who — due to a childhood accident — deals with self-esteem issues from her disfigured face.