PLAYBILL PICKS: Breakout Performances of the 2013-14 Broadway Season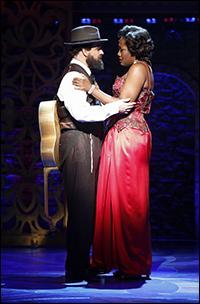 Photo by Carol Rosegg

Amber Iman made her Broadway debut as legendary jazz singer Nina Simone in Soul Doctor, the musical inspired by the life and music of controversial Rabbi Shlomo Carlebach. Iman immediately won the heart of audiences when she appeared in Soul Doctor's smoky piano bar singing "I Put a Spell on You" and "You Know How I Feel." Iman embodied Simone with her limitless range, sultry lower register and captivating stage presence. Shortly before it was announced that Iman would make her Main Stem debut in Soul Doctor, she was singing in 54 Below's late-night competition "The Callback." Check out her performances of "Miss Byrd" and the Miley Cyrus hit "Party in the USA."