PLAYBILL PICKS: Breakout Performances of the 2013-14 Broadway Season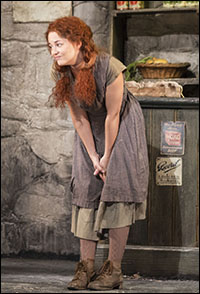 Photo by Johan Persson

After a meteoric career in her native Ireland, Sarah Greene blazed into movies, the West End and now Broadway as the supremely cruel and beautiful Helen McCormick, the flame-haired object of Daniel Radcliffe's not-so-secret desire in The Cripple of Inishmaan. A 2006 graduate of the Gaiety School of Acting in Dublin, Greene made a splash in the title role of Abbey Theatre's hit, Alice in Funderland, in Little Gem at the Edinburgh Fringe Festival and several productions — including Playboy of the Western World — for Druid Theatre Company. Her filmography boasts "The Guard," "Love & Savagery" and "Noble," in which she played a Irish woman who left her homeland to care for street children in Mongolia and Vietnam. She told Playbill.com that she's "shocked" at how the play propelled her into an Oliver nomination in London and now a place in the limelight of Times Square.