PLAYBILL PICKS: Breakout Performances of the 2013-14 Broadway Season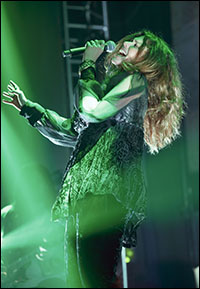 Photo by Joan Marcus

In her Broadway debut, Mary Bridget Davies stormed the New York theatre scene this fall playing one of rock 'n' roll's most enduring icons in A Night with Janis Joplin. Equipped with an uncanny ability to conjure Joplin's wild inflections and signature vocal rasp, critics praised Davies' performance in which she rocked more than a dozen hits including "Me and Bobby McGee," "Down on Me," "Stay With Me" and "Mercedes Benz." "When I first started singing, I realized I could capture some of her essence, and I thought, 'Well, that's weird. Let's see if I can do that, let's see if I can repeat that," Davies told Playbill.com. "That's really what that is about - it's the longevity… People joke, if Janis was around, what do you think she'd say [about my interpretation of her work], and my dresser says, "She'd probably ask Mary how she does it six nights a week."