PLAYBILL PICKS: Breakout Performances of the 2013-14 Broadway Season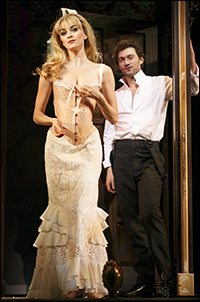 Photo by Joan Marcus

Seemingly born to wear the high-fashion Edwardian hats and bodices of A Gentleman's Guide to Love and Murder, the regally blonde Lisa O'Hare stops the show nightly as spoiled, upper-class beauty Sibella Hallward in the door-slammingly farcical Act II song, "I've Decided To Marry You." Though trained as a ballerina and now playing a supporting role in Gentleman's Guide, O'Hare is no stranger to the center-stage spotlight. In her native U.K. she flew through the title role of Mary Poppins and could have danced all night as Eliza Doolittle in a revival of My Fair Lady, a role she also played in a U.S. tour. American TV roles have included spots on "The Closer," "Castle" and "Undercovers." See a clip of her interview with Playbill.com here and read about her inspirations, her favorites and the role she is dying to play in Playbill.com's Cue and A.

Though playing the comedic role of Phoebe D'Ysquith in A Gentleman's Guide to Love and Murder, Lauren Worsham wows audiences and critics with her pure and glistening soprano, reflecting her training in both opera and theatre. Born in Austin, TX, she started performing at age eight, inspired by the likes of Barbra Streisand, Beverly Sills and Laura Benanti. After studying at Yale, she came to New York where, she told Playbill.com's Diva Talk column, her first showbiz job was as a line wrangler for Spamalot. Moving up from there, she has sung with the New York City Opera (Cunegonde in Candide), Goodspeed Opera House (Lili in Carnival!), City Center's Encores! series (Amy in Where's Charley?) and Carnegie Hall (Pitti-Sing in The Mikado). Worsham is also co-artistic director of The Coterie, a Manhattan opera company, and she somehow finds time to front the downtown indie-pop band Sky-Pony.