PLAYBILL PICKS: Breakout Performances of the 2013-14 Broadway Season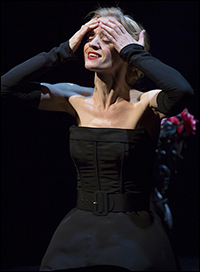 Photo by T. Charles Erickson

Anne-Marie Duff made her Broadway debut playing Lady Macbeth in the Jack O'Brien-helmed production of Macbeth. Duff, an Olivier Award nominee who took on the iconic roles of Queen Elizabeth, Joan of Arc and Nora in A Doll's House in England prior to coming to the Great White Way, found humanity and sympathy in the often-reviled wife of the ambitious Thane of Cawdor, who was played by Tony nominee Ethan Hawke. "That's the quest for the kingdom — for me to play her as a woman that exists, not some excuse for his bad behavior," Duff told Playbill.com. "I think it's very easy to go down that path. You don't want that sort of reactionary opinion." Read Playbill.com's interview with Duff here.