PLAYBILL PICKS: The Top Theatre Stories of 2012; "Smash," "Les Miz," Theatre Renovations, Rebecca and More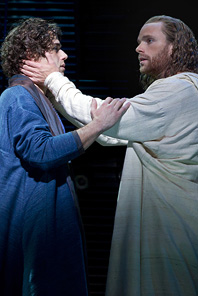 Photo by Joan Marcus

FAITH TAKES A STAND: The New York theatre community isn't generally thought of as the most religious bunch around. (Comparisons to Sodom and Gomorrah are more common.) But you wouldn't know that from the properties producers chose to stage this season on Broadway. Among them: revivals of Godspell and Jesus Christ Superstar; two shows about evangelists, Leap of Faith and Scandalous; and Grace, a play about a wide-eyed young couple with big plans to open a chain of Gospel-themed motels. Of course, it should be noted that the first three of these didn't last much longer than a Mitt Romney campaign stance. I guess Broadway audiences like their religion served up nicely roasted, a la The Book of Mormon. Read the Playbill.com feature about the link between faith and musical theatre.