PLAYBILL PICKS: The Top Theatre Stories of 2012; "Smash," "Les Miz," Theatre Renovations, Rebecca and More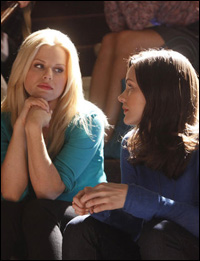 Photo by Will Hart/NBC

SMASH IT UP: The theatre, so long neglected by the greater cultural world, got its own television drama this year: "Smash." The unlikely project — born of a new world that had embraced the theatre-geek world of "Glee" — was the creation of seasoned theatre and film folk, including producers Steven Spielberg, Neil Meron and Craig Zadan (the latter two produced the film versions of Chicago and Hairspray and Broadway's Promises, Promises and How to Succeed…), Mauritius and Dead Accounts playwright Theresa Rebeck (the series creator), Hairspray songwriters Marc Shaiman and Scott Wittman (who wrote music for the series' fictional musical) and Michael Mayer (who directed the pilot and a handful of episodes, and consulted on musical sequences). It featured a mixed cast of theatre pros and film and TV stars (with savvy cameos of actual theatre people like producer Emanuel Azenberg and Jordan Roth). NBC threw a lot of money into promotion. Prior to the Feb. 6 premiere, you couldn't escape the marketing push. And people did watch. Well, the pilot anyway. And, then, they didn't. The show lost viewers every week, and critical reaction cooled. But it slowly climbed out of the hole, and the show was renewed for a second season (it begins in February 2013). However, in a shake-up, Rebeck "stepped down" (as they say) as showrunner of the musical drama. Admitted musical-theatre geek Joshua Safran ("Gossip Girl") is now in charge of story elements. That's show business, kid. Read Playbill's "Smash Report" series of columns recapping Season One, beginning with the season finale.