PLAYBILL PICKS: The Top Theatre Stories of 2012; "Smash," "Les Miz," Theatre Renovations, Rebecca and More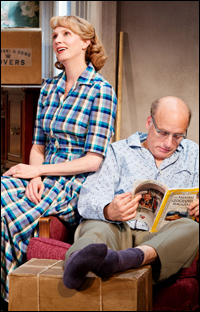 Photo by Nathan Johnson

ONE PULITZER, NO PRODUCER: Second only to Rebecca in Broadway scandaldom this year was the will-it-come-in-or-not melodrama of Bruce Norris' Pulitzer Prize-winning play Clybourne Park. The drama was scheduled to enjoy a prestigious Broadway berth courtesy of the experienced and wealthy hands of producer Scott Rudin. But the show's future was cast in doubt after a spat between the writer and producer led Rudin to abandon the show. (Something about Norris, who's also actor, suddenly pulling out of a Rudin television mini-series he had promised to be part of.) Norris and the cast were blindsided by the producer's vengeful exit. But Jordan Roth, the youthful president of Jujamcyn Theaters, quickly stepped in to make sure he wouldn't lose the booking at his Walter Kerr Theatre. Park went on to twice extend its limited 16-week engagement, and win the Tony for Best Play.