PLAYBILL PICKS: The Top Theatre Stories of 2012; "Smash," "Les Miz," Theatre Renovations, Rebecca and More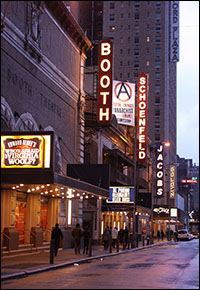 Photo by Joseph Marzullo/WENN

SANDY SHUTDOWN: Broadway again showed its resiliency in the face of adversity. Hurricane Sandy slammed into New York and New Jersey Oct. 29, knocking out power in much of the city, and flooding a variety of neighborhoods. Cleanup continues in beleaguered, hurting neighborhoods like Breezy Point, Queens, and Red Hook, Brooklyn. But Broadway turned off its lights for only two days before getting up and going again. (It helped that Broadway venues did not lose power.) The Off-Broadway story, as is often the case in such catastrophes, was much grimmer. Below 38th Street, where power was out for four days, theatre companies and productions remained dormant, losing money with every passing sunset. Several shows delayed their openings. No major damage to venues was reported. The storm created personal hardship for many in the city and in the Northeast, and claimed the lives of hundreds on its path from the tropics to New England. Here's how New York City theatre people faced the storm that week.