Playbill Poll: Our Readers Cast the Title Role of the Upcoming Film Adaptation of Pippin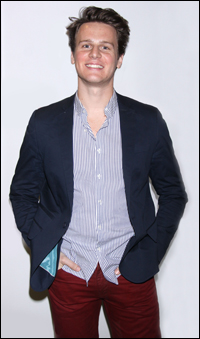 photo by Joseph Marzullo/WENN
Suzanne Tidwell: J Groff would be perfect. He has that inherent sweetness and innocence.
Hunter Emmett Burke: Jonathan Groff. I feel like he has a big enough fan-base to attract viewers. He also has a nice résumé full of broadway credits and has been in some pretty big projects in Hollywood including Frozen, Glee, and a new HBO series he will be starring in called Looking. I think he is a good candidate.
Anthony Nufrio Jr.: Jonathan Groff.
Sandile Mhlaba: MJT, Jonathan Groff, or Jeremy Jordan.
Groff originated the role of Melchior Gabor in the rock-musical Spring Awakening in 2006, for which he received a Tony Award nomination. He can be heard as the voice of Kristoff in the Disney/Pixar film "Frozen" and will be the star of the HBO original series, "Looking."