Playbill Staff Recalls Cherished Holiday Theatre Memories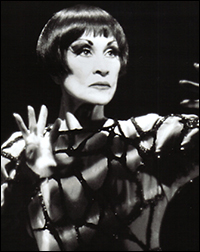 Photo by Catherine Ashmore
ADAM HETRICK, Playbill.com Staff Writer
From the moment I spotted Chita Rivera on the cover of Theater Week magazine and saw the performance of "Where You Are" on the 1993 Tony Awards, my obsession as a 13-year-old became John Kander and Fred Ebb's Kiss of the Spider Woman.
As a Christmas gift, my parents bought tickets to see the Broadway production on Dec. 29, 1993, at 2 PM at the Broadhurst Theatre. The tickets were wrapped in a giant box that kept revealing smaller and smaller wrapped packages, like a Christmas nesting doll. At the bottom were three tickets for a performance just four days later in New York City. Spider Woman would be my second Broadway show after Phantom of the Opera two years before. I guess my family has a thing for Harold Prince musicals – my parents' first was A Little Night Music in 1973.
There was a big snowstorm, so my family took the Amtrak from Hershey, PA. We watched the snow fall while having lunch upstairs at Sardi's overlooking the Broadhurst. Adding to the jittery excitement, I had a stomach bug and lost my lunch at the restaurant right before the curtain went up. My parents were so worried I was going to be sick, but nothing was going to stop me from seeing Chita Rivera in the flesh.
I still remember the tremulo of the strings in the darkness at the start of the prologue and seeing Chita Rivera, Anthony Crivello and Jeff Hyslop (who replaced Brent Carver) make magic that day. As a young kid who was still unsure about his sexuality, that musical changed my life – I too had a place to escape, and it was at the theatre.
I didn't get to meet Chita that day (though I have several times since), but they did send my Playbill backstage for her to sign. I still watch that Tony Awards performance and swear she's singing right to me when she says, "Turn off the lights and turn on your mind..."