PLAYBILL THEATRE WEEK IN REVIEW, April 21-27: Openings Galore in the Final Week of Broadway's 2011-12 Season!



Photo by Ken Howard
Of course, some of those critics, had they checked in, might have been admitted for acute depression. For those seven shows weren't exactly the pick of the litter of the 2011-12 Broadway season.

The trail of tears began with the multi-ethnic Broadway revival of Tennessee Williams' A Streetcar Named Desire, which officially opened April 22 at the Broadhurst Theatre. Emily Mann, an old hand at Williams (she knew Tennessee), directed Blair Underwood and Nicole Ari Parker as Stanley and Blanche in this revival that is produced by Stephen C. Byrd and Alia M. Jones of Front Row Productions, who were also behind the hit all-African-American revival of Cat On a Hot Tin Roof on Broadway in 2008.

Critics were split. Those who didn't like it thought the production was "an exquisite snooze," an "unfathomable misstep" on the part of Mann, one which featured performers who look good and amped up the sexual energy, but offered "no subtle psychological insights into Blanche, Stanley and Stella."

Of those who did like it (the minority), AP thought is had "an excellent ensemble cast" that "combines under taut directing from Emily Mann to create a fresh way to enjoy an iconic play." And Newsday, who admitted not needing another revival of Streetcar, admitted that they "have put together a solid, credible, more aggressive than poetic" production.

Not exactly stuff to set the box office ablaze. But critics were mixed on Cat, too, and that did gangbuster business, showing there is an African-American theatre audience hungry to see name black actors in classic plays.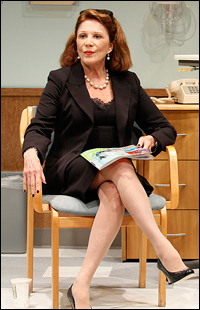 photo by Carol Rosegg
Somewhat surprisingly, The Lyons, Nicky Silver's darkly comic dysfunctional-family play — and the playwright's Broadway debut — fetched the best reviews of the week when it opened April 23 at the Cort Theatre.
The play had been hailed as Silver's best in years when it ran Off-Broadway last year. With the Broadway rendition, critics estimated that the work was even better, benefitting from some judicious cuts in the script and an even more towering performance by comic stage master Linda Lavin.
The producers know what the attraction of this play is; Lavin's name is above the title in big letters. Indeed, without Lavin, the reviews would have been much different. As a delightfully (and nonchalantly) monstrous wife and mother, Lavin was termed "an absolute wonder," "in sensational form," and "constantly compelling." She "has a peerless ability to humanize her characters even while exposing their lacerating edges" and is "giving a master class in comic timing."
About the play, critics had more quibbles. When all was said and done, it is "a bit of a mess," said one; and the second act, it was generally agreed, is not up to the standard of the first. But the all-important New York Times basically gave the show a rave. The paper even said "Welcome to Broadway at last, Mr. Silver." (Knowing the facetious mind of Silver, that "Mr." sent him rolling on the floor in disbelieving laughter.)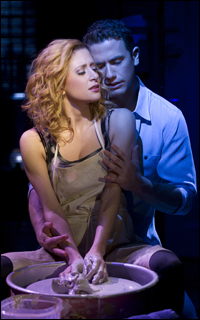 Photo by Joan Marcus
Ghost The Musical — the London pop musical based on the Academy Award-winning 1990 film about a romance that reaches into the afterlife — opened the same night at the Lunt-Fontanne Theatre. It could have used Linda Lavin.
The show, directed by British golden boy Matthew Warchus, hadn't gotten good notices when it debuted in London (where it nonetheless became a hit), but the producers decided to bring it over the ocean anyway.
Given that history, they couldn't have been that surprised by their reception. The best the Times could do, by way of compliment, was say it "may not be the very worst musical ever made from a movie…But it is just as flavorless and lacking in dramatic vitality as many that have come before." Critics complained the show was too focused on the special effects at the expense of the characters and story; that it was a robotic piece of flashy showbiz mechanics which ignored the intimate sweetness of its source material; "a flavorless hash that is unrelentingly loud, vulgar and stunningly tone-deaf to the ways in which the world has changed since that era of sweet young yuppie innocence." Wrote Bloomberg, "Palpitating with light-emitting diodes that blink, flicker, zip and flash, Ghost is like Spider-Man Turn Off the Dark without the depth."
Compared unfavorably to Spider-Man? Ouch.
Director-choreographer Kathleen Marshall has done some excellent work on Broadway with star Kelli O'Hara (The Pajama Game) and with old Broadway material (the still-running hit revival of Anything Goes). And star Matthew Broderick has had success with musicals (something called The Producers). But that track record couldn't transform Nice Work If You Can Get It — which employs classic songs of composer George Gershwin and lyricist Ira Gershwin, and is inspired by their 1926 musical Oh, Kay! — into a solid critical hit.
Certainly there were folks who liked it more than enough. "They've managed to take about 20 songs from the George Gershwin and Ira Gershwin catalog, marry them to the skeleton of the 1926 musical and emerge with a plot that makes madcap sense with songs that feel right for the occasion," wrote AP. And Hollywood Reporter said, "Broderick is winningly paired with the luminous Kelli O'Hara, and the leads are backed by a string of top-notch character turns. Throw in 21 tunes from two of the preeminent practitioners of the American musical and you have a cocktail that should go down easily with Broadway nostalgists."
But others thought the show only captured the fizz and fire of the madcap era fitfully. Of those, quite a few seemed content to blame Broderick, who played a zany playboy. "If only its likable, hard-working leading man — a miscast Matthew Broderick — didn't seem to be painfully concentrating on his next step, all night long," wrote one critic. The Times said, "He sings and dances pleasantly and competently, but rather vaguely, too, as if his thoughts were elsewhere. And when he proclaims that he's possessed by 'fascinating rhythm'…you're inclined to doubt it." Time Out was the most brutal: "Somebody miscast Broderick again."