PLAYBILL THEATRE WEEK IN REVIEW: Jake Gyllenhaal On Stage, Raves for Detroit, Les Miz Back on Broadway?



Photo by Jeremy Daniel
Leading a parade of raves was Charles Isherwood of the New York Times, whose earlier embrace of a separate Chicago run in 2010 was possibly responsible for its future life (including London and the current Off-Broadway run). Time Out New York blessed it as "sly, timely and neatly surprising," despite occasional "playwriting cliches." The Post said it "totally nails the great, deep malaise of middle-class suburbia, with a sustained energy and a wicked eye for telling details," adding that it's "expertly written, directed and acted."
Linda Winer at Newsday was less upbeat, dubbing it a "thoughtful but not exactly thought-provoking drama" and adding that it "feels long, with heavy splatters of emotional foreshadowing and with familiar sitcom exchanges between two neighboring couples."
PH quickly announced that two weeks would be added to the run (Oct. 16-28) following a one-week hiatus (Oct. 8-14). The play, which the Times called "superb," "smart" and "satisfying," stars Tony Award winner John Cullum, Darren Pettie, Sarah Sokolovic, Tony nominee Amy Ryan and David Schwimmer, who all got solid reviews. The PH website has this disclaimer: "In extension weeks, understudies may appear."
*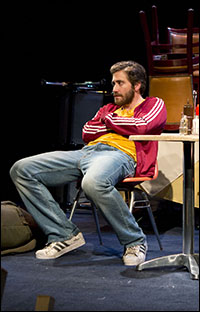 photo by Joan Marcus

Nick Payne's domestic drama If There Is I Haven't Found It Yet made its U.S. premiere at Off-Broadway's Laura Pels Theatre on Sept. 20, in a production by Roundabout Theatre Company. The tale of a drifter uncle who connects with his overweight niece earned mixed reviews, with Time Out New York being the most kind by calling it a "brutally honest and tender family tale." The Times called it a "four-member comic drama" that is "more conventionally formulaic and less fully realized" than British writer Payne's more praised Constellations. Beowulf Boritt's conceptual scenic design raised the eyebrows of Times' Ben Brantley (who said it got in the way) and Newsday's Linda Winer, who characterized it as "a big, stage-wide tank of water into which rain pours as we enter the theatre, and pieces of furniture are carelessly tossed when people no longer need them for a scene."

The takeaway of most of the reviews is that Hollywood star Jake Gyllenhaal, in his U.S. stage debut, is a solid stage actor.

*

Casting was announced for the fall Broadway revival of Tennessee Williams' Cat On a Hot Tin Roof. Director Rob Ashford's cast will feature the previously mentioned Tony Award winner Scarlett Johansson (A View From the Bridge) as Maggie and the not previously mentioned Benjamin Walker (Bloody Bloody Andrew Jackson) as Brick (Chris Pine was thought to be in the running), with Tony winner Deb Monk (Curtains, Steel Pier, Redwood Curtain) as Big Mama and Irish actor Ciarin Hinds ("Harry Potter" movies) as Big Daddy. Hinds played a juicy, Southern, Bill Clinton-like role in the summer miniseries "Political Animals."

The revival (beginning Dec. 18) will mark the Broadway non-musical directing debut of Ashford, the director-choreographer known for Promises, Promises and How to Succeed in Business Without Really Trying. Ashford won the Tony for his choreography of Thoroughly Modern Millie. He staged a lauded revival of Williams' A Streetcar Named Desire in London.