PLAYBILL THEATRE WEEK IN REVIEW, Jan. 19-25: Julie Taymor's Next Project; Brits on Broadway; Aladdin Will Rise


Ian McKellen and Patrick Stewart will return to Broadway in fall 2013 in a limited engagement of Harold Pinter's No Man's Land and Samuel Beckett's Waiting for Godot. Directed by Sean Mathias, the productions will be performed in rep.
As McKellen said, "British actors are used to playing in repertory, whether for the National Theatre or the Royal Shakespeare Company. We enjoy the challenge of variety, and audiences, myself included, enjoy watching a group of actors in contrasting roles. We hope, at least once a week, to give Broadway audiences the chance of seeing Beckett and Pinter on adjacent nights, perhaps even on the same day."
Waiting for Godot played a critically acclaimed, sold-out run in London's West End in 2009. Prior to Broadway, No Man's Land will play an out-of-town engagement this summer.
Both plays are essentially two-man shows, with key visitations from two other characters. In the Pinter — about the querulous, mysterious meeting of two writers — Stewart will play Hirst and McKellen will be Spooner. In the Beckett, Stewart is Vladimir and McKellen Estragon.
***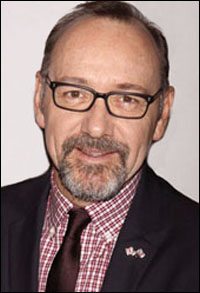 photo by Joseph Marzullo/WENN
In another bit of Anglo-American theatre news, Kevin Spacey, the Yankee movie star who has been artistic director of London's Old Vic since 2003, revealed his plans to step down from the venue in 2015. Before he does so, he is seeking to put in place a 20 million pound endowment fund before that to secure the building's future.
Spacey's appointment as the venerable old theatre's new head was received with considerable publicity — not all of it positive — when announced a decade ago. It seemed odd to many that an American be put in charge of so English an institution. He promised at the outset to appear in a couple productions every season. His track record as producer in the first few seasons was checkered, with as many successes as failures. A particular debacle came when he lured film director Robert Altman back to the theatre to direct movie stars Neve Campbell and Matthew Modine in Arthur Miller's Resurrection Blues. But he fared better with productions of A Moon for the Misbegotten and Richard II
***
In another changing of the guard at a major British theatre institution, new Royal Shakespeare Company artistic director Gregory Doran announced his first season.
As part of it, David Tennant will return to the RSC to play the title role in Richard II in October 2013. Richard II will also see the RSC returning to its previous London home of the Barbican Theatre when it transfers there in December.
Richard II will begin a new cycle of Shakespeare History plays that Doran will direct over the coming seasons. The collaboration between Doran and Tennant follows their 2008 teaming on Hamlet.