PLAYBILL THEATRE WEEK IN REVIEW, June 23-29: Casting for Kinky Boots, Orphans, Edwin Drood and Sam Shepard's Latest



Photo by Joseph Marzullo/WENN
Producers of Lucky Guy quickly put those fears to rest.

Colin Callender, who is producing the Broadway production, issued a statement, saying, "We are honored to be part of her legacy and remain committed to seeing her magnificent work Lucky Guy shine on Broadway and can think of no more fitting tribute to her extraordinary writing and remarkable body of work."

Tom Hanks—who appeared in the Ephron films "Sleepless in Seattle" and "You've Got Mail"— is reportedly attached to star in the play, which concerns the life of the late writer Mike McAlary, who was a columnist for the New York Post and the Daily News. George C. Wolfe, who helped Ephron shape the final draft of Lucky Guy, will direct the production, previously reported to open in January 2013 at a Shubert theatre to be announced.

***

Actor Alec Baldwin—who's enjoyed a career renaissance since starring in the television series "30 Rock," and can currently be seen in the films "Rock of Ages" and "To Rome With Love"—has not been on Broadway since the 2004 revival of Twentieth Century. That drought will end this coming spring when he will star in the Broadway bow of Lyle Kessler's taut three-hander, Orphans. Daniel Sullivan will direct the production at a Shubert theatre to be announced. Baldwin will play the role of kidnapped mobster Harold.

Though Kessler is hardly a household name, Orphans, his best known title, has never quite strayed far from the minds of commercial producers since it first bowed in 1983. Its reputation was made when the Steppenwolf Theatre Company got their hammy hands on the gritty drama. John Mahoney starred as Harold in the combustible staging, with Kevin Anderson and Terry Kinney as the overgrown kids who live by themselves in a decrepit house and kidnap Harold, who eventually gets the best of the two.

From time to time, news items have cropped up in which some star or other was reportedly toying with the idea of reviving Orphans. Most recently, Al Pacino was supposed to do it on Broadway in 2009.

***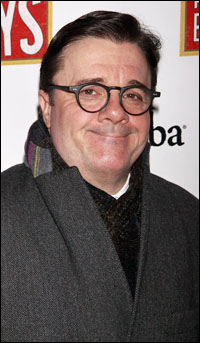 photo by Joseph Marzullo/WENN
In more starry casting news, Lincoln Center Theater is aiming to present Douglas Carter Beane's new comedy The Nance on Broadway in spring 2013, with Jack O'Brien at the helm and, according to the New York Times, Nathan Lane as its star.
The play—which takes its title from a staple vaudeville character, an effeminate homosexual male, who was featured in burlesque sketches and films of the era—is set during New York City Mayor Fiorello LaGuardia's campaign to ban burlesque in the 1930s. Beane's plot places the action of the play in the Irving Theatre, which is where Off-Broadway's Vineyard Theatre now stands in Union Square.
***
Roundabout Theatre Company announced further casting for its new Broadway production of Rupert Holmes' The Mystery of Edwin Drood. Joining the already-revealed Chita Rivera as Princess Puffer, the cast will also boast Tony winner Jim Norton as Chairman, Stephanie J. Block as Drood, Will Chase as John Jasper, Gregg Edelman as Reverend Mr. Crisparkle, Jessie Mueller as Helena Landless and Betsy Wolfe as Rosa Bud.
The musical will begin preview performances on Oct. 19 at Studio 54. Scott Ellis directs.
***
Over in Chicago, Stark Sands and Billy Porter will star as unlikely business partners in the world premiere of the new Broadway-aimed Cyndi Lauper musical Kinky Boots. It will run Oct. 4-Nov. 2 at the unfortunately named Bank of America Theatre prior to a 2013 Broadway arrival.
The show is based on the 2005 British film of the same title. It has a score by Lauper, with a book by Harvey Fierstein and direction and choreography by Jerry Mitchell. The story is about, uh, "a shoemaker in trouble and the drag queen who saves his family business." Yeah, that sounds like what the plot of a Lauper musical might be.
***
The world-premiere production of Sam Shepard's new play Heartless, directed by Daniel Aukin for Off-Broadway's Signature Theatre Company, will be brought to life by a fine group of veterans, including Jenny Bacon, Gary Cole, Betty Gilpin, Julianne Nicholson and Lois Smith. The Off-Broadway production runs Aug. 7-Sept. 16, opening on Aug. 27, in The Irene Diamond Stage at The Pershing Square Signature Center.
***
The Tony Award-winning Roundabout Theatre Company revival of Anything Goes, which was scheduled to end its run Aug. 5, it as announced this week, and will now play its final performance July 8 at the Stephen Sondheim Theatre.
And Memphis, the Tony Award-winning musical about a soulful, white radio DJ and his love for a black singer at the dawn of the Civil Rights movement, will end its run on Broadway Aug. 5 after 1,166 regular performances at the Shubert Theatre.