PLAYBILL THEATRE WEEK IN REVIEW, March 2-8: The Critics Respond to Broadway's Ann and Cinderella, and To Each Other



Carol Rosegg
Directed by Mark Brokaw, and given a new book with a contemporary edge in humor, gender politics and politics-politics by Douglas Carter Beane, the Broadway debut of the lavish, TV-born musical was given mixed scores by the critical corps.
"Cinderella gets off to a halting start and takes some questionable detours," opined the Hollywood Reporter. "But this pleasurable confection overcomes its conceptual missteps with old-fashioned stagecraft, enchanting design elements, smooth direction and choreography, and most of all, winning contributions from an ideally-cast ensemble."
AP was fairly happy with the result, too, saying, "Beane has succeeded, proving he may be Cinderella's real fairy godmother. His script crackles with sweetness and freshness, combining a little Monty Python's Spamalot with some Les Miserables."
For Variety, however, Beane's touch muddied the waters. "The cheeky humor of Beane's book comes from imposing modern sensibilities (and contemporary lingo) on timeless storybook figures," the paper wrote. "But all these clever alterations radically change the story we all grew with, the tale about how true love rescues a callously mistreated girl from persecution. Because the evil stepmother and stepsisters are no longer cruel or threatening, our fairytale Cinderella is no longer a despised outcast, the unhappy victim of her sad circumstances. For that matter, Ella is no longer even the hero of her own fairytale."
New York magazine's good-and-bad appraisal typified the critical reception: "Beane's book is good-humored and well-tempered, and it stops just short of attempting too much. Why bother with a Chomsky exegesis here? Cinderella may not be an infinitely interpretable text — Beane's always on the razor's edge of ridiculousness — but every age is entitled to its own stock fantasies. Rodgers & Hammerstein's (and Beane's and Brokaw's) Cinderella is as solidly entertaining a commercial proposition as they come, featuring one of Broadway's finest ensembles and what might be its couple of the year: Just a couple of regular folks, the soul-searching blue-blood and the enchanted-orphan, trying to get along, and getting along rather well indeed."
***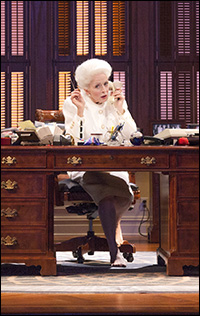 photo by Ave Bonar
Also opening this week (March 7) on Broadway was Ann, actress-writer Holland Taylor's biographical play about late Texas Governor Ann Richards, at the Vivian Beaumont Theater.
Taylor has been touring with this piece — which she also wrote — for a couple of years. Somewhat unsurprisingly, since Taylor is well-liked and respected, and all journalists — theatre critics included — are liberal lapdogs who blindly honor the memory of left-leaning Richards (right, Fox News?), the critical notices were kind, if not exactly laudatory. The Daily News called it "an affectionate but uneven bio-drama." Said Backstage: "If the actor somewhat outshines the scribe, it's not a major problem. Taylor's witty, sharp-eyed script is sufficiently compelling to serve for this entertaining solo show."
"To put it as the plain-talking Richards might," wrote the Times, "this one-dynamo show — Ms. Taylor is the lone cast member — is neither a shapely work of drama nor a deeply probing character study. But admirers of Richards probably won't give a darn. She was a brightly shining political star and an inspiring figure during the years of her renown, and Ms. Taylor is essentially just giving this beloved dame one more chance to bask in the spotlight."