PLAYBILL THEATRE WEEK IN REVIEW, March 30-April 5: The Critics Respond to Lucky Guy, Kinky Boots; Stritch's Last Stand


Hanks came out rather unbloodied, even if the vehicle he was in, Nora Ephron's final play, Lucky Guy, took its knocks. Hanks plays Mike McAlary, the columnist who, for a time in the '80s and '90s, reigned supreme in New York's tabloid wars, culling scoops and lavish paychecks. Critics found Hanks persuasive and appealing, as always, but the play lacking in shading and depth, even if it was also a fetchingly fond farewell to a disappeared corner of New York.
"Lucky Guy is not so much a fully developed play or even a persuasive character study as a boisterous swapping of fond anecdotes about the end of a life and the end of an era," wrote the New York Times. "Unlike some of the movies Ephron wrote and directed, and many of her peerlessly sharp essays, Lucky Guy often feels only newsprint deep."
"Nora Ephron's last play is… a lot like the messy subject she looks at — overindulgent, overstuffed and raucous," opined AP. "That's its charm as well as its undoing...Hanks is classic Hanks — lovable, touching and funny...After 16 scenes over two hours, McAlary emerges as a complex figure, both self-aggrandizing… But the play leaves little lasting impression, like a day-old tabloid."
A number of critics notes that Ephron told her story too much, rather than letting the characters enact it. "A frequent stumbling block in any dense dramatic chronicle is too much tell, not enough show," wrote The Hollywood Reporter. "But the late Nora Ephron circumvents that problem in her entertaining salute to the tabloid newspaper business of the 1980s and '90s."

The kindest words were reserved for Hanks. "Tom Hanks is a natural," said Variety. "Although he hasn't trod the boards in years, the affable movie star takes to the stage like a fish to water...As an actor whose niceness is the key component of his DNA, Hanks can play selfish, arrogant, cunning, and calculating without losing his sources or alienating his enemies. The inherent decency he projects redeems this prickly character from his less than princely behavior toward friend, foe, and long-suffering family."
***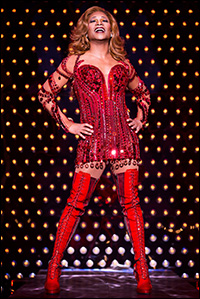 photo by Matthew Murphy
On April 4, the new musical Kinky Boots, based on the 2005 film of the same name, had its moment in the sun. Billy Porter stars as a drag performer whose broken heel helps mend a broken wing for a foundering shoe-maker, played by Stark Sands. Like almost every other new musical on Broadway these days, it takes self-realization and self-acceptance as its themes. And as has become a popular formula in recent years with new musicals, a virgin composer drawn from the world of pop and rock — in this case Lauper — is paired up with a dyed-in-the-wool theatre person — here, librettist Harvey Fierstein.
"The leading players here," wrote the Times, "pick up on the trademark Lauper mix of sentimentality and eccentricity, but each makes it his or her own. Under Jerry Mitchell's precise and affectionate direction, they do what you want performers in musicals to do: they define specific characters by the way they sing and move."
AP, too, was won over by the rampant niceness visible on stage. "The show… is so full of good will — did you expect anything less from Lauper or Fierstein? — that only a curmudgeon could walk out and not want to hug the crowds in Times Square, even the sketchy ones in cartoon costumes. True, the second half is almost completely unnecessary, the English accents are laughable and the footwear puns are relentless. But who cares? This is a big ol' sweet love story about sons, the families we make and red patent leather."
The Hollywood Reporter stated simply, "Who doesn't love Cyndi Lauper? ..The fact that her infectious spirit shines through every number is unquestionably the chief asset of Kinky Boots, helping to elevate the show above its familiar template."
Those who didn't love Lauper (and there were some) found something to like in Porter, whom the Daily News called a "force of nature as Lola." "Whenever Porter is on stage," said Entertainment Weekly, "he elevates a musical that might otherwise seem like a club-ready mash-up of La Cage aux Folles, The Full Monty, Billy Elliot, and Cabaret."