PLAYBILL THEATRE WEEK IN REVIEW, March 9-15: Critics Respond to the New Plays by Christopher Durang, Annie Baker, Craig Lucas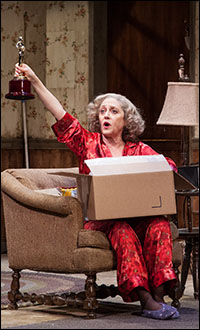 photo by Kevin Thomas Garcia

Carol Kane made a rare stage appearance — and an even rarer starring stage appearance — in the world premiere of Craig Lucas' comic thriller The Lying Lesson, about a fictional encounter between late-career movie star Bette Davis and a stranger, which opened this week at Atlantic Theater Company.

Some reviewers had a tough time figuring out what Lucas was after. "Instead of a pitch-black satire about the comfy but poisonous cocoon of fame," wrote the Times, "Mr. Lucas offers a more realistic, low-key and ultimately slight drama about two lonely women of vastly different ages and life experiences."

Entertainment Weekly wrote "The Lying Lesson is actually a curious hybrid of thriller — cue the lightning, power failure, and haphazard wielding of a kitchen knife — and buddy comedy." Said The Daily News, "The Lying Game is an odd duck of a play — and an inedible one at that… a cat-and-mouse puzzler with a touch of celebrity."

Most critics considered the play a lighter work from Lucas, who lately has tended to traffic in heavy waters — a "divertissement" as Backstage put it — and they didn't necessarily consider that a bad thing.

***

"The Office" star Jenna Fischer will join Josh Hamilton, Leslie Bibb and Fred Weller in the world premiere of Neil LaBute's Reasons to Be Happy Off-Broadway this spring for MCC Theater.

As you might guess, the new play is a companion piece to his award-winning Reasons to Be Pretty, which was first produced at MCC Theater in 2008 before moving to Broadway, where it was nominated for three 2009 Tony Awards, including Best Play. Given the plot, the potential for any of the characters in Reasons to Be Happy to actually be happy seems slim. Steph and Greg, who broke up three years ago, are wondering if they can make a fresh go of it. There are a few problems though: she's married to someone else and he's just embarked on a relationship with Steph's best friend, Carly, a single mom whose jealous ex-husband, Kent. Uh oh.

Reasons to Be Happy will begin previews May 16 toward a June 11 opening at the Lucille Lortel Theatre. It is scheduled to run through June 23.

***

Looks like the second life of the cult musical Carrie is going to last a big longer.

When the musical by Michael Gore and Dean Pitchford, based on the horror-thriller by Stephen King, opened on Broadway in 1988 to scathing/hilarious reviews, it sunk like a stone and wasn't heard from for nearly a quarter century.

But its revival, and "revisal," Off-Broadway in 2012, was better received, and was heavily covered by the press. That version of the show will receive its Los Angeles debut in a new immersive production by the Transfer Theatre Group this fall.

Bruce Robert Harris and Jack W. Batman, who produced the Broadway productions of Clybourne Park, Nice Work If You Can Get It and the upcoming revival of Pippin, present the Los Angeles run along with the Transfer Theatre Group. Performances will begin Sept. 6 towards a Sept. 13 official opening night.