PLAYBILL THEATRE WEEK IN REVIEW, Nov. 10-16: Scandalous, The Performers, Edwin Drood and Giant Open



Photo by Joan Marcus
On Nov. 13, Broadway said hello to its fist-ever revival of Rupert Holmes' Dickens-inspired whodunnit musical The Mystery of Edwin Drood. The show, in which the audience chooses the culprit of Dickens' last unfinished novel, opened at Studio 54 and starred Stephanie J. Block, Chita Rivera and Will Chase.

The show was a critical and popular smash the first time, and critics were charmed again this time around. If the show wasn't exactly A-level material, they generally agreed, it was A-level entertainment. The New York Times, while allowing that the show was "a musical that ultimately adds up to less than the sum of its hard-working parts," approved of the production. "In an era when Broadway revivals of beloved musicals can seem dispiritingly skimpy, this handsome production offers a generous feast for the eyes, trimmed in holiday cheer for an added spritz of currency."

The man from the AP had a ball, too. "Perhaps the best part is watching the first-rate cast have so much fun...This is a play where overacting can be done to perfection…the fun is infectious, even if it seems that the folks on stage might be having more of it than the paying guests." Others had minor qualms. "Director Scott Ellis could easily have pushed the pace into a gallop rather than a trot," wrote the NY Post, "and cranked up the zany-meter a notch or two. Still, for a show doing triple duty as musical, choose-your-own-ending mystery and time-travel device, Drood is jolly good fun."

"Drood, ultimately, is not a complete show so much as an expandable playspace," concluded New York magazine, "and with performers of this caliber, an evening of yeasty, nudge-nudge-wink-wink British good humor is more or less guaranteed. The show-within-the-show may drone a bit, but the show-around-the-show sparkles."

***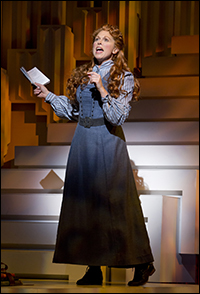 photo by Jeremy Daniel
Kathie Lee Gifford's career as a Broadway lyricist and librettist was ushered in on Nov. 15 when her collaboration with David Friedman and David Pomeranz, titled Scandalous: The Life and Trials of Aimee Semple McPherson, bowed at the Neil Simon Theatre.
The production suffered a hiccup the day before, on Nov. 14, when star Carolee Carmello was put on vocal rest for two performances on Wednesday. Her voice was strained and two performances were canceled.
Of course, by then, the critics has all already seen her performance as the the Jazz Age evangelist who fell from grace when she disappeared for several days under strange circumstances. The Times, while admiring Carmello, had less kind things to say about her vehicle. "Scandalous…condenses and rearranges McPherson's story to fit smoothly into the familiar grooves of celebrity biography. In the process the show reduces McPherson's remarkable life to a cliché-bestrewn fable about the wages of fame." The show was not "so much scandalously bad as it is generic and dull."
Newsday had much the same assessment, saying Carmello was "one of our most deeply wonderful, inexplicably underutilized singing actors," but that the show was merely, "well-produced and professional. It's also not interesting, alas, at least not interesting enough to sustain 2-1/2 hours of fast-forward storytelling and inspirational songs that almost always end in throbbing climax." USA Today paid the show an odd compliment, saying it had "the courage of its sincerity. Gifford and co-composers David Pomeranz and David Friedman have crafted a two-hour-plus journey that neither wallows in its self-importance nor looks down its nose at the quaint folks it chronicles."
Variety's verdict declared, simply, "The composer, lyricist, librettist, director, choreographer and producers are all Broadway first-timers; so much for beginner's luck."