PLAYBILL THEATRE WEEK IN REVIEW, Oct. 6-12: Douglas Hodge and Mary McCann Are Critics' Darlings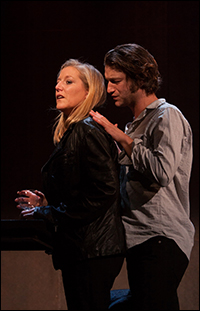 Photo by Kevin Thomas Garcia

Every now and then, if they work long enough, a journeyman actor gets a review like this: "Ms. McCann, a founding member of the Atlantic is quite a bit more. In the nearly 20 years I've followed her work, I've always thought of her as a fine, eminently reliable actress. But nothing she has done previously prepared me for the blazing conviction and centeredness of this performance."

That choice piece of praise came from the New York Times, which was reviewing Harper Regan, a play by Simon Stephens starring McCann in the title role of a woman who walks away from her home and family. McCann is, indeed, one of the mainstays of the Atlantic Theater Company's stable of actors. And she has always been a solid, but never flashy presence. The critics, even when they didn't care for the play, found much to praise here. "McCann can play both raw and vulnerable," wrote Entertainment Weekly, "as well as impulsive and self-defeating, and her face is a remarkable roadmap of her character's emotional wanderings." And the Daily News observed, "McCann's rock-solid performance as a woman who's anything but goes a long way toward keeping us engrossed. There's something wonderful in the calm she brings to the role, even when Harper is at her most out-there."

***

Film star Jake Gyllenhaal has found success in his American stage debut. The U.S. premiere of Nick Payne's humor-kissed dysfunctional-family drama If There Is I Haven't Found It Yet, at Roundabout Theatre Company's Off-Broadway home at the Laura Pels Theatre, will extend an extra two weeks following a hiatus. The limited run, which was originally scheduled to run through Nov. 25 only, will take a 12-day break before resuming performances on Dec. 8 and play two additional weeks through Dec. 23. Tony nominee Enid Graham (Honour) joins the cast Oct. 23, playing a harried mom whose marriage to an academic is on the rocks.

***

Complete casting was announced for The Public Theater's world premiere of Nathan Englander's The Twenty-Seventh Man. Among the ensemble is a trio of estimable players: Byron Jennings, Chip Zien and Ron Rifkin, a one-time regular presence on the New York stage who is now but rarely seen. The play will begin previews Nov. 7 in the Martinson Theater with an official opening Nov. 18.