PLAYBILL VIP SPOTLIGHT: Pasek and Paul's Dogfight Enters the Ring With College Students at Pace University
| | |
| --- | --- |
| | |
Playbill.com takes a look at the production as part of our new PlaybillVIP.com Spotlight series. Organizations across the country can now create an authentic Playbill as part of this new venture.
*
Amy Rogers, the director of Musical Theatre at New York City's downtown Pace University, was among the audience at the 2012 Second Stage Theatre production — and world premiere — of Dogfight, the new musical by composers Benj Pasek and Justin Paul and book writer Peter Duchan that follows a group of hormonal 20 year olds as they prepare for war in 1963. Immediately, she was eager to get her hands on the material for the twentysomethings at Pace.
"The beauty of teaching musical theatre in New York City is that these [writers] are just a phone call or a subway ride away," said Rogers, who sent an email to songwriters Pasek and Paul and expressed her interest in licensing the property from Musical Theatre International. "The timing was right, and I was a fan of the piece, and I thought that this could be a really good fit — especially for college-age actors. It's about their age group. It was sort of kismet, timing wise."
Visit Pace University's Virtual Internet Playbill at PlaybillVIP.com by clicking here.
With Pace University behind the first production of Dogfight since its world-premiere engagement uptown, it was also kismet for the musical's leading players, junior Hayley Anna Norris, 20, and sophomore Cory Jeacoma, 19.
"Last year," Jeacoma explained, "[Hayley Anna] pulls me aside at the first big party here, and she said, 'We're going to ask Amy to do Dogfight, and we're going to do it… I'm going to be Rose, you're going to be Birdlace.'"
Norris saw the musical three times in its Off-Broadway incarnation and thought, "That was me as a 15-year-old girl. I didn't feel attractive. I didn't feel like I could be outspoken, and now — moving to New York and growing into myself — it's exactly what Rose does. Eddie helps her do that. She grows into herself, and she becomes this beautiful spirit. When I saw it, I thought, 'I have to do that. Her story has to be told.'"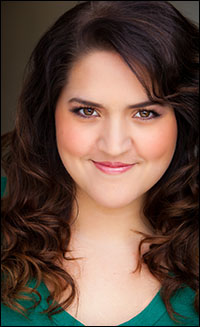 Photo by Matthew Murphy/Murphy Made Photography

In Dogfight, Norris and Jeacoma — along with an ensemble of ten students — tell the story of young Vietnam-bound marines, who, on the eve of their deployment, hold the annual "Dogfight," in which the young men strive to snag the ugliest date. Rose (Norris), a clumsy waitress, is asked out — for the first time — by Birdlace (Jeacoma).

"It's just a really beautiful story," said Norris. "It's about two people who would never, ever — in their whole entire life — come together, and because of something terrible, they do come together, and they teach each other about compassion. Also, it deals with Vietnam…"

"Joel [Waggoner], our music director, would constantly say, 'You guys realize that if we were back in '63, you would be drafted.' It's terrifying," added Jeacoma. "It's a terrifying thought to think, 'I would be doing what these guys would be doing — risking my life.' Hats off to everyone who [did] that because I know that I [couldn't have]. And, like Hayley Anna said, it's incredible that we're telling this story because it's true. Even though the story may be fictional, the events are so true, and they're so historical — things that we all need to know about."

Being able to identify so closely with Rose, Birdlace and the other characters in Dogfight, Rogers said, was part of Pace's decision to stage the new work. The other part, she explained, was access.

"We have access to these writers, and the first day of rehearsal [Benj, Justin and Peter] were here talking about it and explaining the process [of] the piece and all of its incarnations. That," Rogers said, "they will never get" with another property. "When [writers] walk in a room, [students think], 'Holy crap!' It's like their idols walk in the room, [but] when you sit down with them, they're human and they are artists as well, and the experience becomes collaborative. That's what you do this for."

Norris and Jeacoma admitted that they have never learned so much from a first rehearsal — being able to bounce ideas off of the show's writers from the very start, expanding their knowledge of the piece and the world of Dogfight.

"Someone asked [the writers] a question that has been sticking with me the whole entire process: 'What does this show mean to them?' And, they said, 'It's about empathy — turning on the empathy switch and turning it off.'"

Jeacoma added, "The way Peter put it was brilliant. He said, 'We ask soldiers to go to war as if it's a switch… You switch [empathy] off.'"

Aside from interacting with Pasek, Paul and Duchan, Pace's leading lady was also able to seek insight from Lindsay Mendez, who originated the role of Rose Off-Broadway. "Lindsay was my teacher," said Norris, who began to work with the current Wicked star in Mendez's Actor Therapy class. "I fell in love with her when I saw Grease in ninth grade. I [thought], 'I want to be her.' And then I met her, and she's been a resource… When you're in college — and, also, when you're a younger actor — you always have an actor you want to look at who has a career that you would want to have. She's been that person for me."

For Jeacoma, Dogfight "has taught me a lot about what I need to work on for the real world," he said. "This [musical] was put up somewhere that is a stone-throw away, and the fact that we're doing it here — and the fact that it's possible for us to delve into this world — it just shows that there's a lot out there that we can be a part of."

*

Performances of Dogfight will be offered Oct. 2-4 at 8 PM, Oct. 5 at 2 PM and 8 PM, Oct. 6 at 1 PM and 7 PM and Oct. 8-9 at 8 PM at the Schaeberle Studio Theatre at Pace University (41 Park Row).

Just like the Playbills found on and Off-Broadway and in numerous theatres across the country, the Playbill VIP contains billing features identical to those used by award-winning theatre professionals for decades. Click here to view Dogfight.

Visit PlaybillVIP.com to explore more exciting productions across the U.S. and to build one of your own.

(Playbill.com staff writer Michael Gioia's work appears in the news, feature and video sections of Playbill.com as well as in the pages of Playbill magazine. Follow him on Twitter at @PlaybillMichael.)

Watch rehearsal footage from Dogfight at Pace: