PLAYBILL.COM'S BRIEF ENCOUNTER With Joanna Gleason; Tony Winner Makes Her Cabaret Debut at 54 Below and Talks Into the Woods



Photo by Michael Crook
Accompanied by the string quartet Well Strung, Gleason will perform Oct. 9, 16 and 23 at 9:30 PM. The evenings promise "tunes ranging from Billy Joel to Dave Frishberg to Johnny Mathis, with maybe even a little walk through the woods."

In addition to her Tony-winning turn in Into the Woods, Gleason garnered Tony nominations for Dirty Rotten Scoundrels and A Day in the Death of Joe Egg. She earned acclaim for her performance in Stephen Karam's Sons of the Prophet and has appeared in The Normal Heart, Nick & Nora, The Real Thing and I Love My Wife.

Playbill.com spoke with Gleason about taking the plunge with her cabaret debut, the challenges of creating a new solo show and her memories of Into the Woods, in the days leading up to her 54 Below bow.

It's surprising that the 54 Below engagement marks your New York cabaret debut.
Joanna Gleason: To be quite honest, I've ducked it for about 30 years because I looked at it like this complete world that was outside of my capabilities. [Laughs.] There are gorgeous men and women who sing and can hold a whole evening of singing. And I thought, "Well, that's kind of not me. I'm an actress who is okay within the context of doing a show or in character. But to just get up as myself, what in the world would I do or say that would be of any interest?"

What made this the right time?
JG: I did two concerts in Provincetown this past summer with Seth Rudetsky and with the quartet Well Strung. I love them. I took the plunge! I was terrified. But Seth is such a master that it was easy for me. It was getting my feet wet. Then, I thought, "That was the summer, that was fun." But Phil Geoffrey Bond from 54 Below called me and I thought this is a sign. The universe was saying, "You know what, Gleason? You have these dreams? Well, wake up." This was my flight or fight moment. I thought, "Well, why the hell not?" I knew that I could write for myself the structure of the story I wanted to tell. You've got to be revealing, why else are people coming? They want to learn about you. What is it about me? What are the songs that have been essential to my life? And what's the part of the story people don't know? So I put it together and it turns out it's an evening to my surprise. That's not to say I don't have those "Holy crap what am I doing?" moments. But I'm doing things that I secretly longed to do.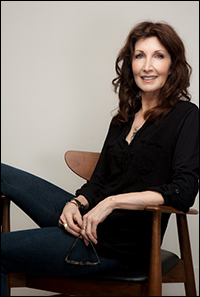 photo by Michael Crook
I think many people don't realize how difficult it is to create an evening where you are simply yourself without the aid of someone else's script or a character. Does that leave you feeling exposed?
JG: You are exposed. But the thing that is true always, that makes for the connection with any audience, even when there's no character to hide behind, is honesty. If you are stripped bare and you are letting them in, you owe them the truth. So, without it being the kind of night that makes people run screaming from theatre - I'm hoping that it's funny. It's kind of like when you wind up the Joanna Gleason doll and it totters across the floor. "What wound her up? Where did she come from? What has been the thing you would not have known about me or my life? And what have I been looking for and did I find it?" And that's the story.
Audiences who have followed your stage work will also finally have the chance to connect with you up close. Is that kind of personal connection something that appeals to you?
JG: I think that's kind of fabulous. It's like over to dinner and I'm saying, "This is what you're gonna eat. Here's what we're serving and unless you're Gleason intolerant, it should be okay!" [Laughs.] I first thought of cabaret as being "You're out there alone." The fact of the matter is that I'm anything but alone. The fact that you're sitting right there is reinforcement that I'm not alone.
How did the music shape the evening? Did you find that the narrative was driven by musical choices or the text you wrote?
JG: The show asks, "What are the songs that have been the underscoring for your life?" That's what this search was about. It's not one of those shows that says, "And then I did..." That's just not me. Also, I'm not a songbird. I can sing. I'm not one of those glorious women and men who do cabaret because they have a very extraordinary instrument and a gift for revealing an entire songbook. I just needed to get up there and tell you a story.