PLAYBILL.COM'S BRIEF ENCOUNTER With Laurie Metcalf, Getting Domesticated at Lincoln Center Theater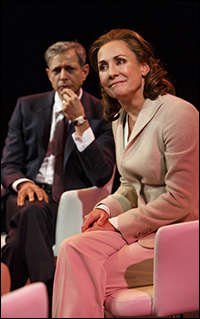 Photo by Joan Marcus

Your character goes through some really intense anger. How did you develop that?

LM: I think that, in this particular play, because the blow-up scene in Act Two is so big, I felt I had to work backward a little and modulate it in the first act. You can only watch so much of that, or it's like, "Shut up!" Knowing how big the climax of the anger is going to result in, I had to sort of watch it in the beginning and keep a lid on it.

What do you think this play is saying about marriage?

LM: Bruce's idea is right there in front of you. I guess it's not so much marriage, but gender, and how we have such a hard time understanding each other and will forever. I love how he framed that with the daughter's biology report. I find, when you're working with something written by Bruce, it's really about the issue he's chosen to write about and his take on it. And, everything comes together to support that in his play. It's really his take on this that everyone is working together to get across to an audience.

What kind of message do you think this play delivers regarding gender roles?

LM: It's just a fascinating, and I think fairly-drawn, look by Bruce, looking at our miscommunication... My character doesn't get to address that on the nose in the play, but Jeff's character does, and he makes a very valid point about wanting to... open up a conversation about what we want or expect from each other and don't know how to ask or assume.

And then, when we don't get it, the frustration of that — and maybe that's the core of what leads to marriages falling apart. The valid point at the top is that he might have an issue of monogamy, which his character is brave enough to bring up before he enters this union, and she shuts him down, and they never really recover from that. They never had the conversation.

It's remarkable to hear you speak of his character with so much empathy after seeing you play his wife onstage and witnessing the hurt she experienced.

LM: I'm very empathetic with his character. I think he's just so frustrated. I see him trying and trying with these women in the second act, when he gets to speak.

My character would probably make him pay through his silence forever. There's no end to it. She gets him to shut up, and he's agreeing to shut up for as long as it takes. And then he finally figures out that there's no end. And that's when he says, "I'm not happy. I'm leaving," at which point she realizes she just screwed herself. How long do you pay for the hurt that you've caused?

With Long Day's Journey Into Night and The Other Place, you've taken on some very intense roles in theatre.

LM: I guess if they're not intense, I make them intense. I don't know how else to do it. I've been really lucky. There are such great roles in theatre, and I rarely read a part that I wouldn't just love to play. They are all fascinating.