PLAYBILL.COM'S BRIEF ENCOUNTER With We Will Rock You Creator Ben Elton; Queen Musical Sets Out to Conquer U.S.


Featuring a book by Ben Elton, the jukebox musical – a mix of gritty rock and pop-culture comedy ––premiered in 2002 at London's Dominion Theatre, where it continues to play. Since its debut, We Will Rock You has become an international phenomenon, with productions as far reaching as Hong Kong, Zurich, Milan, Paris, Auckland and Las Vegas.

With an ever-evolving script that has been fine-tuned for contemporary U.S. audiences, We Will Rock You launched a North American tour Oct. 15 at Baltimore's Hippodrome Theatre.

Book writer-director Elton, who has collaborated with Queen band members Roger Taylor and Brian May, spoke with Playbill.com about We Will Rock You's creation, its longevity and future plans for the Queen musical.

When you were approached about creating a musical from the Queen catalogue, where did you find your inspiration to take audiences on this particular journey?

Ben Elton: I was contacted by Jim Beach, Queen's manager, because they'd been working on a Queen musical. The idea had been to base it on Freddie Mercury's life and the tragic end, but also the glory and the triumph. They felt it wasn't really coming together, and Jim wanted to know if I wanted to take a look at the script. They wanted an edge to this piece. I was very clear that I didn't want to be involved, because I don't think Queen's music is about Freddie's life. The band was all for individuals; they all wrote music, and they band wasn't about Freddie. In fact, he was the most fervent that they were a brotherhood. I was very clear that the musical needed to be about the band's vibe, about what they mean to us, about our lives, effectively. I mean, Queen are a legendary rock band, they have this grand scale, this fabulous universal ubiquity, and I said, "That's the vibe you want for this story." And I started thinking about legends and King Arthur and the Sword In the Stone, and suddenly I thought, "A guitar buried in a rock. A world where rock music is banned and plastic pop is the only music people are allowed – coming from the corporate – not the streets." So, I pitched the idea to them, and they loved it. The inspiration was really that the thing you think when you think Queen, and for me, the word was legend.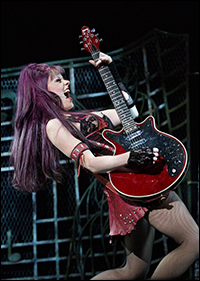 photo by Paul Kolnik
Was the entire catalogue made available to you? There's so much music to choose from, how did you go about selecting the songs?
BE: It was an interesting moment when I went to meet [Queen band members] Brian [May] and Roger [Taylor]. I said, "This is how I think we should place the hits and where they should appear in the story." They'd already bought the script – they were with it. That was a big moment. They had some thoughts, but on the whole they loved what I was doing, and we worked on it together. The only problem was what to leave out, because Queen had 40 top hits, and we only have 26 of them in the show. There's a sequel coming out I hope. I don't think anybody's going to be disappointed. I think they get what they want from Queen.
In addition to the hits, are there any lesser-known songs audiences can expect to hear?
BE: Over here in the States perhaps a little more so, because I think it's fair to say that even though Queen is huge in the States, they're not as huge as they are everywhere else in the world. In the 80s Queen didn't have so many hits over here, although now over all the years, they've become classics. So, maybe the audience here will have slightly more surprises than elsewhere. But there's one big surprise in the show, and that's the one Queen song that Freddie never heard, which I plucked from the "Made In Heaven" album. I thought it should be there, not just as a tribute to Freddie, but as a tribute to all the rock stars that died young; in fact, to any youngsters that failed to fulfill their dream and die young. It's called "No One But You," and it's a song that Brian May wrote for Freddie after he died. It's a fantastic song. Of course, Freddie never heard it, and that is the penultimate song of act one. It's an incredibly moving moment in the show. You can see people thinking of their own tragedies and thoughts before we return them to triumph. The song has become a massive hit because of We Will Rock You, and it's the one Queen hit that came from the show, not from the band.
We Will Rock You is set in a future with some rather grim prospects. How did you come about deciding on this angle for the story?
BE: It's pretty much like most dystopian visions; if you look at "1984," you'll see elements. Dystopian visions set in the future tend to be where the corporations – the man – has become all powerful, and the individual has become crushed. His chance to be himself has been sucked out by the need for profit or world domination. In this case, the story is about a world where corporate entertainment has become all-encompassing. The pop music machine has become so efficient that it has banned any individuality from the kids themselves; you merely can consume, you don't produce. The machine gives you what you want to listen to and you dig it. Our young rebels, our two kids in the story are on a mission to find the last guitar on earth so rock and roll will be reborn. That's what the story is about.