PLAYBILL.COM'S THEATRE WEEK IN REVIEW, April 13-19: Motown, The Nance, Big Knife, Assembled Parties, Orphans, Jekyll & Hyde Open



Joan Marcus
The week began with Motown, a new jukebox musical that takes audiences through the highs and lows of the history of the eponymous record label, a show in which Motown founder Berry Gordy had a heavy hand. The general verdict was: great songs plus mediocre book equals okay entertainment.
AP called the show "completely unbalanced: The songs are staggering, the book utterly flimsy. Both are due to one man: Gordy, who clearly knows what makes an indelible hit song, but also has an inability to write objectively about that skill." "There's no shortage of great tunes from which to choose," wrote the Daily News. "And if a batch of catchy classics with tasty harmonies and cool grooves...were enough to make a jukebox musical click, the show would be an automatic hit. But it takes more. While the music catalog runs deep, the story is shallow. The book, penned by Gordy, who also produced the show, suffers from being sketchy, earnest and sometimes corny."
There were also complaints that too much history and music was crammed into the two-and-a-half hour running time. "Motown would be a much more satisfying nostalgia trip if Mr. Gordy and his collaborators were more effective curators of both story and song, rather than trying to encompass the whole of the label's fabled history in two and a half hours. Irresistible as much of the music is, I often had the frustrating impression that I was being forced to listen to an LP being played at the dizzying, distorting speed of a 45." Said Hollywood Reporter: "You can't hurry love, but apparently you can hurtle through 25 years of pop history without depth or complexity."
In the end, none of this critical carping mattered. Motown is raking in the dough at the box office, reported the New York Post, outpacing Matilda even. Sure, it's just a jukebox musical. But what a jukebox.
***
Next up was The Nance, the second Broadway opening this season from playwright Douglas Carter Beane (the first being Cinderella)—though audiences could be forgiven for thinking it not as a Beane play so much as a Nathan Lane vehicle, for that biggest of male Broadway stars was indeed the name above the title. Lane played Chauncey Miles, a homosexual burlesque headliner in the 1930s (the "nance" of the title) facing a changing world and his own self-loathing.
Reviews, which were mixed-to-positive, focused on two things: the play was an unexpected step up in artistry and seriousness for Beane; and Chauncey Miles was the best role Lane had had since The Producers.
"This Janus-faced persona makes Mr. Lane a natural for the divided soul that is Chauncey, and he doesn't disappoint," wrote the Times. "Moving between his natural and artificial selves in increasingly adverse circumstances, his Chauncey flips the on and off switch so often that it finally short circuits, to devastating effect...But even Mr. Lane can't reconcile all the disparities Mr. Beane's script asks him to weave together."
"Directed with subtlety and tenderness by Jack O'Brien," offered the AP, "this is a bittersweet tale of repression and rebellion wrapped up in a valentine to a lost theatrical art form...Lane as the tortured soul at the play's heart is magnificent -- showing sides that are charming, witty, savage, self-destructive and yearning." The Hollywood Reporter said, "If the ambitious play ultimately doesn't dig deep enough to find the ideal balance between its delirious low comedy and pathos, at the very least it provides a tremendous vehicle for Nathan Lane."
"The season isn't over yet, but The Nance may turn out to be its dramatic high point," declared Time Out New York. "Beane is in top form, tossing off glittering epigrams, but also crafting rich, flowing dialogue and giving even minor roles strokes of shading. Jack O'Brien stages the comedy skits and regular scenes with equal gusto. Lane shows his enormous range, expertly landing punch lines before punching us in the gut."
There were also several comments about the lavish production values of Lincoln Center Theater's handsome production. A "textbook example of how to put on a classy show," wrote Variety.
***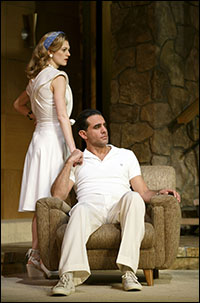 photo by Joan Marcus
With The Big Knife at the Roundabout Theatre Company's American Airlines Theatre, Broadway had its second Clifford Odets revival of the season and its second Bobby Cannavale starrer. After this season, Cannavale, who was last in Glengarry Glen Ross, can be counted as a headliner—if not necessary an ironclad one, since both the Mamet and the Odets got mixed notices.
While generally esteeming the play as lesser Odets—"The Big Knife lacks the intensity of his best work, and the stakes are drawn so bluntly that there's not much room for nuance," wrote the Times—critics admired Doug Hughes, glossy staging and, for the most part, Cannavale's performance. AP called it "a strong, noirish production," and Time Out said it was "muscular, moody and stylish, with a mostly solid cast under Doug Hughes's shrewd direction… In general, the production strikes the right fevered, grisly tone."
The portrayal that got the most praise, however, was character actor Richard Kind's turn as a venomous studio chief. "What Doug Hughes' Broadway revival for Roundabout Theatre Company does have in its corner is three sizzling character turns from gifted actors playing different cogs in the old-Hollywood machinery," wrote the Hollywood Reporter. "As a studio head whose manipulative tactics rival those of a Mafia don, Richard Kind's performance alone is reason to savor this production, his dishonesty so ingrained that he seems bizarrely sincere in his insincerity."
***
Arguably, the surprise of the week—maybe the season—came with the world premiere of Richard Greenberg's The Assembled Parties. Nobody was particularly anticipating this Manhattan-set family drama starring Judith Light and Jessica Hecht, two great actors who are nonetheless hardly marquee names. Greenberg has always been accorded respect by the critical community as a man of talent and intelligence. But, with the exception of Take Me Out, reviewers have rarely praised his work to the skies. Instead, the accolades, when they come, are often qualified, as if critics were still waiting for Greenberg to produce his best writing. Well, apparently, they thought this Manhattan Theatre Club production, directed by artistic director Lynne Meadow, amounted to his best work. Said Bloomberg: "It's the most engrossing to date from a writer whose work I usually find too self-consciously clever to be taken seriously."
The story took us into the world of the Bascovs, an Upper West Side Jewish family in 1980. In a sprawling Central Park West apartment, former movie star Julie Bascov (Hecht) and her sister-in-law Faye (Light) bring their families together for their traditional holiday dinner, which doesn't go as planned.
The Times called it, "in a word, charming. It is also smart, sad and so impossibly well-spoken you may feel like giving up on conversation… [It] is an elegy to a breed of woman, a style of living and a genre of theater of which only vestiges remain in frantic, self-promoting New York. Directed with loving care by Lynne Meadow, this is an old-fashioned play that ruefully knows that its time has passed and, moreover, why it's passed."
"The latest work by playwright Richard Greenberg is a beautiful and touching look at the inner workings of a well-to-do family, their mistakes and the stories that bind them," said the AP. "Lynne Meadow directs with superb skill, keeping the tension rising while allowing the actors all the room to show their gifts...With a breathy, calm and happy demeanor, Hecht is addictive to watch."
The Hollywood Reporter called it "Aaron Sorkin meets Neil Simon," (which doesn't sound like a compliment), but went on to say, "the cleverness is supported by a foundation of warmth, sensitivity, even delicacy that makes this funny-sad comedy as unexpectedly affecting as it is entertaining."
Both Hecht and Light were lavishly praised, but Hecht a little bit more. "At the center of both is Julie, played with feathery otherworldliness by Jessica Hecht in one of the year's most absorbing performances," said Time Out.
These reviews, no doubt, gave Greenberg something to smile about as he was handed news this week that his other Broadway outing, Breakfast at Tiffany's, would close April 21.
***