PLAYBILL.COM'S THEATRE WEEK IN REVIEW, April 20-26: Alan Cumming, Fiona Shaw, Cicely Tyson, Bette Midler and Pippin Return to Broadway



Photo by Jeremy Daniel
The final run-up to the Tony Award cut-off day began with the only Shakespeare production on offer this spring, and it was an unusual one. Alan Cumming starred in his own one-man Macbeth at the Ethel Barrymore Theatre. The piece, in which Cumming, as a patient in a psychiatric unit, plays nearly all the roles in the tragedy, had previously played acclaimed engagements in Scotland and at the Lincoln Center Festival last summer.

Critics gave Cumming his due, saying the achievement was impressive and the interpretation singular. However, that praise was cut with comments that the central gimmick of the production got in the way of Cumming fully probing the depths of the play.

"Watching him perform this personalized rendition of Macbeth," wrote the Times, "I was at times more intrigued by the battle going on between the serious actor and the shameless entertainer than I was by the tense struggles taking place in the divided mind of Macbeth...In terms of stamina and ingenuity, Mr. Cumming's achievement is certainly remarkable. But I came away from my second viewing of this production—I first saw it when it was presented by the Lincoln Center Festival last summer—with the confirmed impression that while Mr. Cumming had persuasively differentiated all the key roles, he had not fully inhabited any one of them."

"While there is no doubt about Cumming's ability," said AP, "there is a feeling that while this is an act of Olympic skill, it's also partly a freak show...while Cumming generates pathos, and even sometimes sharp laughter, from his audience, the staging—no matter how inventive—doesn't always add meaning to Shakespeare's play."

Variety called Cumming's approach "an interpretation that throws a very particular light on Macbeth at the expense of the play's political and social qualities, yet such are Cumming's gifts as an actor, we also get an uncommonly rich reading of the play. Using the most subtle shifts in register, gait and dress, he switches seamlessly from character to character."

Finally, USA Today commented, "In general, though, this minimalist Macbeth is more technically impressive than it is emotionally potent."

***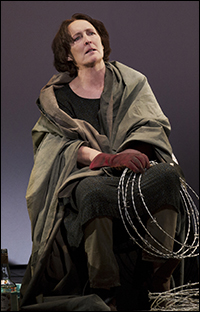 photo by Paul Kolnik
It was a week of solo shows, and Macbeth was followed the next evening by the opening of The Testament of Mary, starring Fiona Shaw as Mary, the mother of Jesus. This is the unorthodox interpretation of Mary's point of view that has made news by inspiring fitful picketing from Catholic protesters.
The critical reception was, on the whole, respectful of what was largely interpreted as a humane look at the mother of God. "This Mary is an ordinary woman of her day, forced against her will into a role in history she never sought or wanted," reported the Times. Hollywood Reporter said, "Provocative as much of the content is, [author Colm] Toibin is not doing anything so blunt as a revisionist interpretation of the Scriptures. He is undertaking a nuanced psychological exploration of a figure whose nobility is due in part to her eternal silence, rendering her instead here as a woman who will not be silenced."
"At times, the play comes close to overkill as Mary overturns everything in sight," said the Daily News reviewer. "But that's really a minor sin. Despite a protest at an early preview by a traditional Catholic group, The Testament of Mary isn't irreverent. Nor is it reverent. It is imaginative and provocative - what theater should be."
There were dissenting voices. The Wall Street Journal thought the piece "a visually static catalog of stock postmodern effects that are already looking a bit quaint." Meanwhile, Time Out New York commented, "Shaw's performance is keen and staggering in its total effect, and slightly self-indulgent in its particulars. She has a tendency, especially early in the show, to show you how. bloody. hard. she's acting! And director Deborah Warner allows too much neurotic prop-moving business and italicized bits of mugging."
***
Eight years ago, there was some talk of the heralded Signature Theatre Company revival of Horton Foote's The Trip to Bountiful, starring Lois Smith, transferring to Broadway. That didn't happen. Instead the gentle 1953 drama, about an unhappy Southern woman's pilgrimage to the town of her birth, finally returned to Broadway this spring in a production starring Cicely Tyson, at the Stephen Sondheim Theatre. The production also features Cuba Gooding Jr., Vanessa Williams, Condola Rashad and longtime Foote interpreter Devon Abner.
Reviews were mixed to positive. The Times noted the difference between the two productions, noting that the new one emphasized comic and hopeful moments. "The 2005 Signature Theatre revival, starring Lois Smith, left me drenched in tears. But at the end of this one, I felt kind of optimistic." The Hollywood Reporter commended Tyson's "ability to connivery stubborn resilience in the face of defeat" as "profoundly touching," but faulted the show for its variable tone, and for "too often sacrificing truthful poignancy in favor of jaunty humor and manufactured sentiment."
AP, more positive, found the staging effective, saying director Michael Wilson "lets the words and action flow with a genuine gentleness and respect that allows each eye roll, shuffle and sigh to have its maximum impact. The care and love all the creators have for this play pours out from the stage." And Time Out said simply, "This soul-stirring and flawless staging performs the same rejuvenation: Bountiful seems as fresh and vibrant as the day Foote finished it."
Almost no critics disliked Tyson. She gave "an awe-inspiring performance," said Entertainment Weekly.
***