PLAYBILL.COM'S THEATRE WEEK IN REVIEW, Aug. 2-8: Broadway Season Heats Up With Side Show, Fun Home and Helen Mirren
***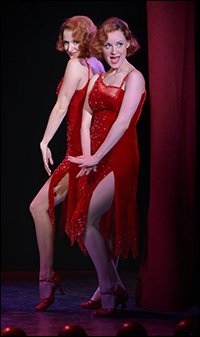 Photo by Kevin Berne
In the most quixotic producing effort since Holler If Ya Hear Me, a group of producers have decided to bring everyone's favorite conjoined-twins musical, the 1997 Tony-nominated Side Show, back to Broadway.
The "re-imagined" production, which was seen at La Jolla Playhouse and, more recently, at the Kennedy Center for the Performing Arts, will arrive on Broadway Oct. 28 at the St. James Theatre, currently the home of Bullets Over Broadway.
It will be directed by Bill Condon, who will be making his Broadway directorial debut. This century's Emily Skinner and Alice Ripley — who played Violet and Daisy Hilton in the original, and have done quite well for themselves ever since — will be Erin Davie and Emily Padgett, who starred in both the La Jolla and Kennedy Center engagements.
Side Show has a score by Henry Krieger, book and lyrics by Bill Russell and additional book material by Condon.
The musical is inspired by the true story of the Hilton twins, who were legends in their time and the highest-paid performers on the vaudeville circuit. The original Broadway production of Side Show ran for 91 performances and received four Tony nominations, including a shared nomination for co-stars Ripley and Skinner, the only time in Tony history where two people were co-nominated for the Best Actress award.
***
Playing someone famous for just being one person will be Helen Mirren, who will return to Broadway in February 2014 as Queen Elizabeth II in a limited engagement of The Audience, at the Gerald Schoenfeld Theatre.