PLAYBILL.COM'S THEATRE WEEK IN REVIEW, Aug. 2-8: Broadway Season Heats Up With Side Show, Fun Home and Helen Mirren
***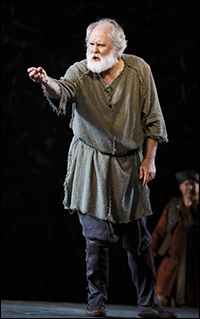 Photo by Joan Marcus
The big opening of the week was The Public Theater's Shakespeare in the Park production of King Lear, starring John Lithgow. Daniel Sullivan directed a cast that also included Annette Bening, Jessica Collins, Jessica Hecht, Steven Boyer, Clarke Peters and Jay O. Sanders.
The critics liked Lithgow, finding him fully committed to the part and as expert in performance as is the actor's usual standard. However, the found a production and cast that surrounded him largely flat and free of inspiration, "a middle-of-the-road Lear," as one critics put it, "traditionally costumed and enacted." Many reviewers, however, admitted to Lear fatigue, having seen a good many productions of the play over the past year.
Still, Sullivan's straightforward approach was, to some, a plus. Wrote Time Out New York, "the Public Theater has delivered, pound for pound, the most coherent, heart-wrenching and gut-punching Lear I've ever seen. Led by a magisterial yet vulnerable John Lithgow, this exceptional production addresses and finesses so many trouble spots in a problematic classic, it's like seeing it afresh."