PLAYBILL.COM'S THEATRE WEEK IN REVIEW, June 7-13: Tony Awards Rulings Draw Ire From Industry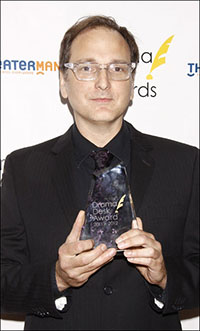 Photo by Joseph Marzullo/WENN

Sound designer John Gromada — about as famous a name as there is in the sound design world (he won in 2013 for The Trip to Bountiful) — started an online petition to reinstate the Tony Awards for Sound Design. On thepetitionsite.com Gromada wrote, "Sound Design is a theatrical design art that is a critical part of the collaborative art of theatre. The American Theatre Wing should continue to honor excellence in sound design as it does for scenery, costume and lighting design, and as it has done since 2008. Sound designers are an important part of the theatrical community whose vital contributions cannot be ignored or dismissed. Reverse this decision now!"

The petition is aimed at the American Theatre Wing Tony Administration Committee. As of the morning of June 13, the petition has already received nearly 20,000 signatures.

***

But there was still more Tony controversy!

It was announced late last week that the rules regarding what producers of Tony-nominated shows can distribute to Tony voters have been suspended for one year.

Previously, the Rules and Regulations of The American Theatre Wing's Tony Awards had enforced very narrow guidelines to producers as to what they could give to those voting for the annual Tony Awards. Under those rules, the producers could hand to Tony voters only: a souvenir book; a script; "an audio and/or video cast recording that replicates the on-stage performance of the eligible production and that does not contain additional material such as narration, quotations, musical underscoring, etc."; and "one set of selected reviews and/or unedited quotations regarding the eligible production."

In other words: no gravy, no graft, no superfluous swag. Just honest, educational promotional materials.

No more! About the suspension of the rules, Charlotte St. Martin, executive director of The Broadway League, and Heather Hitchens, executive director of the American Theatre Wing, said in a joint statement, "It is the feeling of the committee that the producers have been acting responsibly and that they will continue to do so without such restrictive language. It is felt that the voters also act responsibly and that such things as souvenirs, edited reviews and small gifts, etc. have no bearing on the voters selections."

I envy them their faith in human nature.